Index of All Cemeteries
Alphabetical Index of All Burials
Previous Page
Use the following to search across all the cemeteries listed.
Example: "Smith, Roger" (yes, use the quotes)
418 BLACKWELL FAMILY (Blackwell Mountain)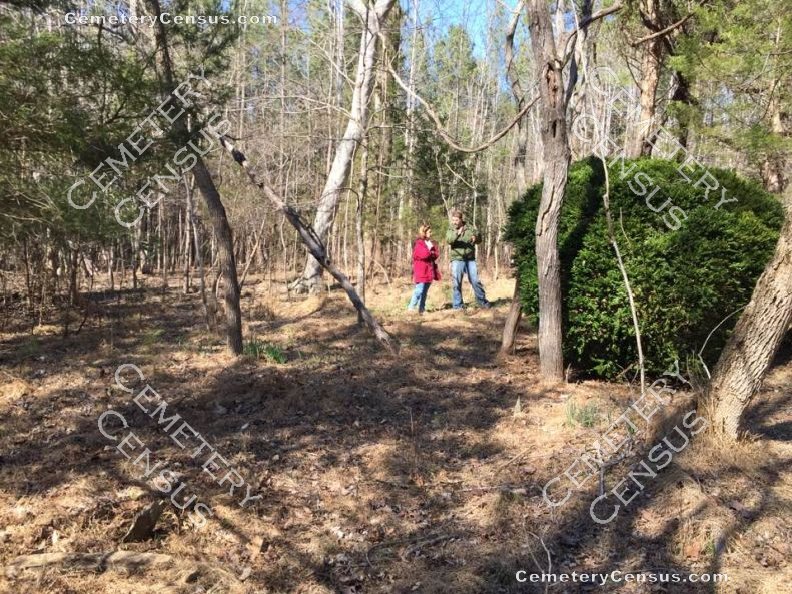 Location - near Blackwell's Mountain off Cornwall Rd, northwestern Granville County.

Coordinates: 36d 25m 13.3s N; 78d 39m 32.5s W Click here for Google maps

The cemetery is located on private property; permission must be given before visiting. Access to the cemetery is off Cornwall Rd, by taking Evans Frazier Rd to its dead end and then taking another dirt path through woods and around old fields.

There are probably more than 25 graves at the cemetery, of which only two seem to have inscribed stone markers.

View #2 of the cemetery.

Survey for the Granville County Genealogical Society in March 2017.


Blackwell, Pomphret (b. 1828 - d. 1887)
Husband of Martha G. Blackwell.

Blackwell, William H. (b. 9 Aug 1828 - d. 8 Aug 1886)
Husband of Mildred T. Beasley Blackwell (she buried at Hester Baptist Church). Son of Stephen Blackwell and Isabella Frazier Blackwell. (William has a cenotaph at Hester Baptist Church).

Frazier, Elizabeth Blackwell (b. 1803 - d. 1863)
Wife of Ephraim Clarence Frazier. Daughter of Pomphret Blackwell and Rebecca Stovall Blackwell.

Frazier, Ephraim Clarence (b. 1794 - d. Nov 1840)
Husband of Elizabeth Blackwell Frazier. Son of Ephraim Frazier and Anna Barnette Frazier.

Frazier, Stephen (b. 25 Jun 1825 - d. 25 Jun 1863)
Son of Ephraim Clarence Frazier and Elizabeth Blackwell Frazier. Died in Jerusalem VA of typhoid fever in the Civil War. Pvt. NC Co.K, 45th Regiment, C.S.A.
Web page updated 14 March 2017
Index of All Cemeteries
Alphabetical Index of All Burials
Previous Page