Index of All Cemeteries
Alphabetical Index of All Burials
Previous Page
Use the following to search across all the cemeteries listed.
Example: "Smith, Roger" (yes, use the quotes)
412 DANIEL - FORD FAMILY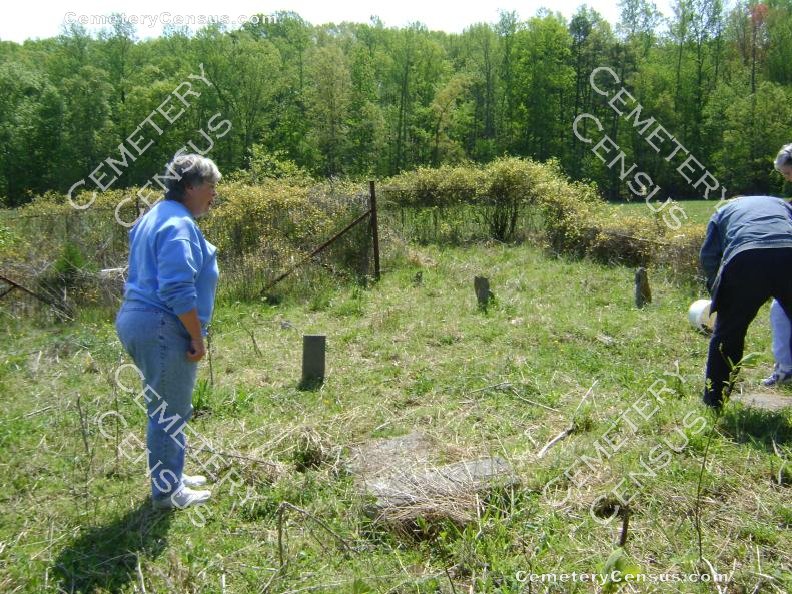 Location - off Walnut Grove Rd north of Oxford.

Coordinates: 36d 25m 20.0s N; 78d 47m 30.7s W Click here for Google maps

Directions: take Hwy 96 north from Oxford; Turn left at Goshen Rd at old Oak Hill Rd; turn left at the stop sign; then turn right on Walnut Grove Rd; go 2.8 miles and the cemetery is on the left in a pasture to the left of a house; turn in and pass house , go behind house and go through a gate, entering the pasture and continue to the left to the cemetery. Note: active cow pasture; property owned by Billy Adcock.

Approximately 6 fieldstones. View #2 of the cemetery.

Sarah's grave marker is flat; all the others have been knocked over by cows? Cemetery is enclosed by a fence, but the missing gate and pushed down fence have allowed the cows use of the enclosure.

Cemetery visited & recorded by Kitty Humphries on May 27, 1979. Visited & recorded for the Granville County Genealogy Society 1746 by Jessie McLam, Kitty Humphries, & Mildred Goss; April 12, 2010.


D., E. (b. Unknown - d. 1873)
Plain marker with initials E.D. (this may be Elizabeth Daniel, daughter of Joseph Daniel and Martha Jane Royster Daniel, born about 1849)

Daniel, Francis Wilkerson "Fannie" (b. 27 Feb 1843 - d. 10 Apr 1906)
2nd Wife of Joseph Daniel. NC marriage index - Joseph Daniel married Fannie Wilkerson 7 Jan 1868 Person Co. Another view.

Daniel, Joseph (b. 15 Apr 1817 - d. 12 Dec 1910)
Husband of 1) Martha Jane Royster and 2) Francis Wilkerson Daniel. NC marriage index - Joseph Daniel married Fannie Wilkerson 7 Jan 1868 Person Co. Pvt Joseph Daniel, Person Co - Co. D, 7th North Carolina Senior Reserves, C.S.A. Another view.

Ford, Grorge R. (b. 28 Jun 1861 - d. 24 Feb 1897)
No marker found. Oxford Public Ledger 11 Mar 1897: Mr. George R. Ford was born in Person County, NC, June the 28th, 1861, and died of typhoid pneumonia February 24th, 1897, in Roxboro. His remains were laid away in the family cemetery at the home of Joseph Daniel. He was married to Miss Martha E. Ford June 16, 1884 and they had two small children, who survive.

Ford, John E. (b. 10 Mar 1860 - d. 10 Mar 1921)
Husband of Virginia Daniel Ford. Son of John Ford and Nannie Ramsey Ford. Born in Person County. Closeup. - Death certificate.

Ford, Julia Virginia (b. 7 Feb 1924 - d. 14 Mar 1924)

Ford, Sarah E. (b. 25 Nov 1890 - d. 13 Jun 1892)
Daughter of John E. Ford and Virginia Daniel Ford.

Ford, Virginia K. Daniel "Jennie" (b. 28 Jan 1859 - d. 19 Apr 1938)
Wife of John E. Ford. Daughter of Joseph Daniel and Martha Royster Daniel. Death certificate.
Web page updated 16 July 2016
Index of All Cemeteries
Alphabetical Index of All Burials
Previous Page