Index of All Cemeteries
Alphabetical Index of All Burials
Previous Page
Use the following to search across all the cemeteries listed.
Example: "Smith, Roger" (yes, use the quotes)
398 ROBERTS - WALLER FAMILY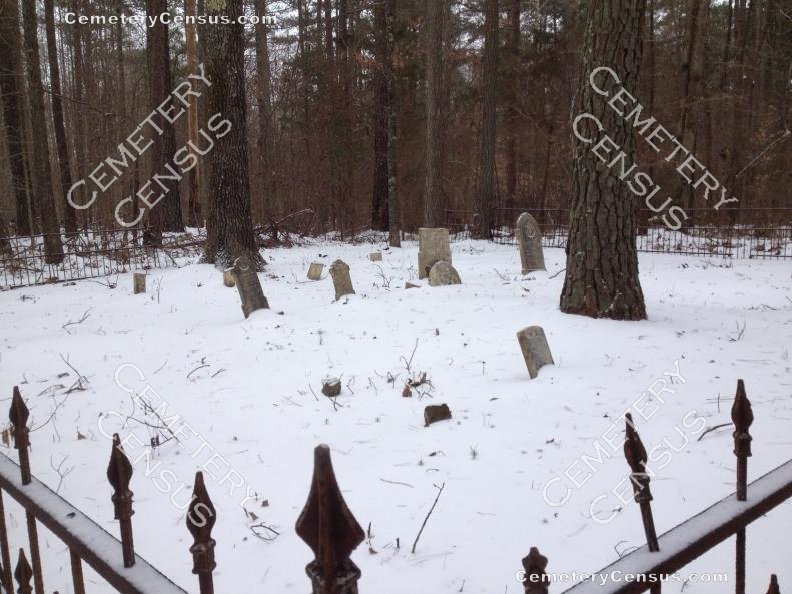 Location - off Hwy 75 between the C.A. Dillon Complex and the old Dairy Farm. About 300 yards in the woods up a two wheel path.

Coordinates: 36d 09m 00.0s N; 78d 46m 58.0s W Click here for Google maps

The cemetery is enclosed by a wrought iron fence. There are at least eight graves and there may be more. Six of the graves have inscribed markers. Two graves are marked by field stones at head and foot.

Survey by Allen Dew in January 2016. All photos by Rob Zebrowski in January 2016. Thanks to Rob for pointing out this abandoned cemetery in the old Butner Reservation Area.


Roberts, Bertha Waller "Ade" (b. 11 Jun 1871 - d. 14 Apr 1905)
Wife of Charlie Jackson Roberts. Daughter of John Arde Waller and Saluda "Ludie" Waller Peed Waller. Mr. Charlie was the son of Andrew J. Roberts and Clara Parker. He was the father of Clara Roberts Umstead who lived in the 1300 block of Holloway street in Durham. Closeup.

Roberts, Infant Son (b. Unknown - d. Unknown)
Son of G.C. and A.B. Roberts

Unknown, Unknown (b. Unknown - d. Unknown)
Two graves marked by field stones.

Waller, John Arde (b. 6 Jul 1844 - d. 31 Mar 1898)
Husband of Saluda Waller Peed Waller. Son of Carter Waller and Margaret "Peggy" Cozart Waller. Masonic emblem. Footstone: J.A.W.

Waller, John G. (b. 31 Jul 1874 - d. 3 Aug 1877)
Son of John Arde Waller and Saluda Waller Peed Waller. "He carries the Lambs in His Bosom."

Waller, Saluda Waller Peed "Ludie" (b. 9 Mar 1852 - d. 2 Nov 1892)
Wife of John Arde Waller. Daughter of John Peed and Susie Bonner Peed. "She was a kind and affectionate wife, fond mother amd friend to all." Closeup dates. (marker is broken with top part on the ground) Footstone: S.W.W.

Waller, Vida M. (b. 14 Mar 1869 - d. 15 Aug 1877)
Daughter of John Arde Waller and Saluda Waller Peed Waller. "In After Time We Shall Meet Her."
Web page updated 16 July 2016
Index of All Cemeteries
Alphabetical Index of All Burials
Previous Page