Index of All Cemeteries
Alphabetical Index of All Burials
Previous Page
Use the following to search across all the cemeteries listed.
Example: "Smith, Roger" (yes, use the quotes)
314 SHERMAN, GEORGE T. FAMILY (Hobgood Rd)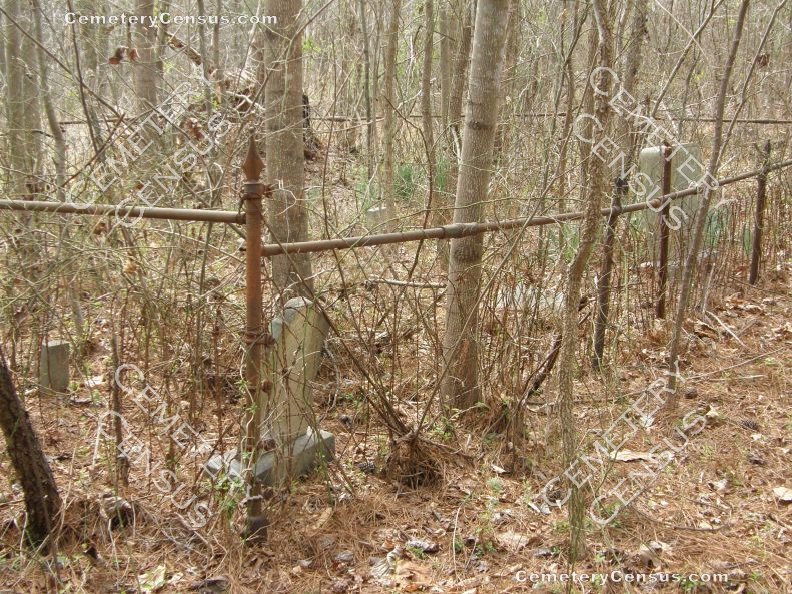 Location - on Hobgood Rd about 0.2 mile from George Sherman Rd.

Coordinates: 36d 18m 57.4s N; 78d 46m 53.7s W Click here for Google maps

Drive from Oxford to Berea. Turn left on Moriah Rd.; turn right on George Sherman Rd. and right on Hobgood Rd. Drive approximately 0.2 mile (to where the power line crosses the middle of the road) and park on the side of the road. The cemetery is on the right in the woods about 20 yds.

View #2 of the fenced in cemetery.

Canvassed by Bonnie Breedlove, Jessie McLam and Keith Williams, April 2008.
Photographs by Chotsey Winborne in March 2017.
Updates by Allen Dew in March 2017.


Sherman, Dora Missouri Newton (b. 14 Oct 1874 - d. 25 Feb 1935)
2nd Wife of George T. Sherman. Married 9 Dec 1886. Daughter of R.L. Newton.

Sherman, Emma L. Williams (b. 21 Aug 1861 - d. 19 Jul 1896)
1st Wife of George Thomas Sherman. Daughter of James H. Williams and Amanda L. O'Briant Williams.

Sherman, Fannie R. (b. 21 May 1899 - d. 16 Nov 1904)
Daughter of George T. Sherman and Dora M. Newton Sherman

Sherman, George Thomas (b. 7 Apr 1859 - d. 18 Oct 1928)
Husband of 1) Emma L. Williams Sherman and 2) Dora Missouri Newton Sherman. Married 9 Dec 1886. Son of Alfred B. Sherman and Frances Williams Sherman. Closeup.

Sherman, James A. (b. 6 Oct 1892 - d. 11 Sep 1893)
Son of George Thomas Sherman and Emma L. Williams Sherman.
Web page updated 2 April 2017
Index of All Cemeteries
Alphabetical Index of All Burials
Previous Page