Index of All Cemeteries
Alphabetical Index of All Burials
Previous Page
Use the following to search across all the cemeteries listed.
Example: "Smith, Roger" (yes, use the quotes)
261 PETIGREW - WALKER FAMILY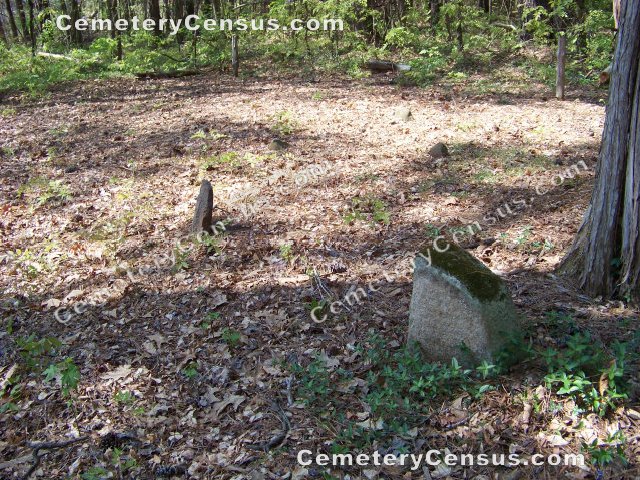 Location - off Oak Rd in the woods behind the 107 Oak Rd in Yankee Village.

Coordinates: 36d 06m 06.2s N; 78d 47m 05.8s W Click here for Google maps

Directions: From US I-85 take exit 186 on to Gate One Road. Drive approximately 2 miles take left on Highland Rd. then next left on Oak Rd. Cemetery behind 2nd house on right about 50 yards in woods.

Survey and photograph by John Stanley in February 2012.


Petigrew, Nancy (b. 1818 - d. 1868)
Daughter of William and Nancy Walker Petigrew

Petigrew, Nancy Walker (b. 1778 - d. 1854)

Petigrew, Stanford (b. 1804 - d. 1888)
Son of William and Nancy Petigrew

Petigrew, William (b. 1775 - d. 1852)
Husband of Nancy Walker Petigrew

Walker, Elizabeth Petigrew (b. 1810 - d. 1884)

Walker, Ester Sherron (b. 16 May 1916 - d. Unknown)
Daughter of Allie and Cora Walker

Walker, Frances Elizabeth Keith (b. 1852 - d. Unknown)
2nd Wife of Lorenzo Walker

Walker, Infant (b. 2 Aug 1905 - d. 2 Aug 1905)
Child of Allie and Cora Walker

Walker, Infant (b. 1 May 1906 - d. 1 May 1906)
Child of Allie and Cora Walker

Walker, Infant (b. 3 Jan 1913 - d. 3 Jan 1913)
Child Of Allie and Cora Walker

Walker, Infant (b. 28 Oct 1926 - d. 28 Oct 1926)
Child of Allie and Cora Walker

Walker, Lorenzo D. (b. 1834 - d. 15 Dec 1899)
Husband of 1) Margaret Ann Wheeler Walker and 2) Frances Elizabeth Keith Walker

Walker, Margaret Ann Wheeler (b. 23 May 1846 - d. 21 Nov 1881)
1st Wife of Lorenzo D. Walker

Walker, Willis (b. 1807 - d. 1887)
Husband of Elizabeth Petigrew Walker
Web page updated 16 July 2016
Index of All Cemeteries
Alphabetical Index of All Burials
Previous Page