Index of All Cemeteries
Alphabetical Index of All Burials
Previous Page
Use the following to search across all the cemeteries listed.
Example: "Smith, Roger" (yes, use the quotes)
260 CASH FAMILY (Wilbur E.)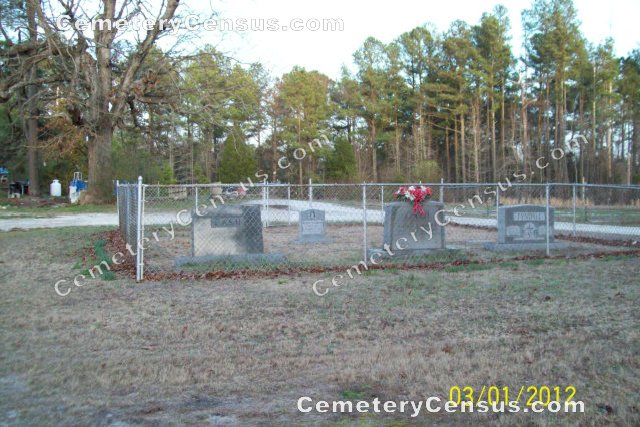 Location - on Cash Farm just south of Lawrence Rd and Horseshoe Rd.

Coordinates: 36d 05m 37.4s N; 78d 36m 18.3s W Click here for Google maps

Directions: From Wilton go south on Hwy 96 to Brassfield Church; go straight on Horseshoe Rd; at the next intersection which is Lawrence Rd, turn left, cemetery is on the left out a ways in the field with a fence around it close to big oak tree.

View #2 of the cemetery. View #3 of the cemetery.

Survey and photographs by Dwight Wilkins in February 2012.


Baker, Rowena Cash (b. 9 Apr 1922 - d. 21 Sep 2005)
Daughter of Wilbur and Nella Cash.
Husband of Nella O'Neal Cash. Closeup.
Husband of Wilma Cash Tyndall. Closeup.
Wife of Junius Bryant Tyndall, Jr. Daughter of Wilbur and Nella Cash. Closeup.
Web page updated 16 July 2016
Index of All Cemeteries
Alphabetical Index of All Burials
Previous Page