Index of All Cemeteries
Alphabetical Index of All Burials
Previous Page
Use the following to search across all the cemeteries listed.
Example: "Smith, Roger" (yes, use the quotes)
258 COZART FAMILY (James Royster Rd)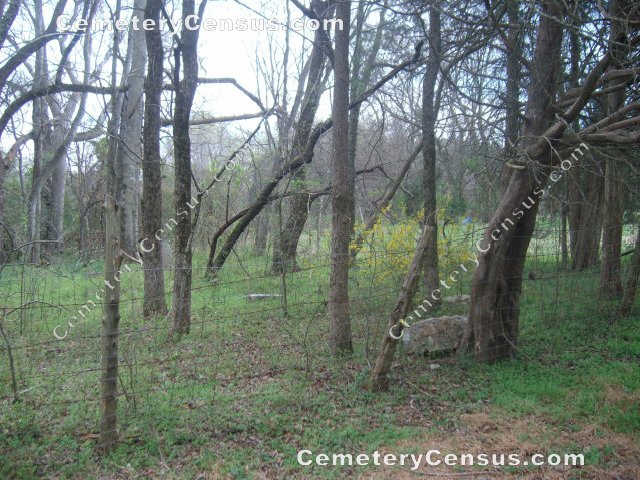 Location - Intersection of James Royster Rd. and Bowling Rd. in Stem.

Coordinates: 36d 15m 24.4s N; 78d 41m 05.8s W Click here for Google maps

Directions: From Hillsboro St. in Oxford, continue on Hillsboro St., where Hillsboro St. becomes old 75; continue for approximately 7 miles, crossing Tar River. Turn right onto James Royster Rd. Continue on James Royster for a half mile to address #4394. Turn right into driveway directly across from Bowling Rd. Cemetery is behind horse barn beside the pond. Must get permission from the homeowner before going into cemetery.

Another view of cemetery.

Survey and photographs taken March 23, 2011 by Joey Dickerson and Mildred Goss (Granville County Genealogical Society).


Cozart, James Christmas (b. 25 Dec 1807 - d. 28 Mar 1887)
Husband of Jane Harris Cozart

Cozart, Jane Harris (b. 1 Jan 1814 - d. 18 Apr 1889)
Wife of James Christmas Cozart

Peed, Arietta Magdelin Cozart (b. 25 Nov 1835 - d. 1 Apr 1912)
Wife of William Clay Peed, Daughter of James Christmas Cozart and Jane Harris

Peed, William Clay (b. Abt 1843 - d. 17 Aug 1910)
Husband of Arietta M. Cozart Peed. Age 68. William Clay was a Confederate soldier.

Piper, Garland (b. 31 Mar 1910 - d. 25 Feb 1913)
Son of C.H. Piper and Bessie Piper

Piper, Lucy Ann Cozart (b. 13 May 1842 - d. 4 Mar 1905)
Wife of Nathaniel H. Piper, Daughter of James Christmas Cozart and Jane Harris

Piper, Nathaniel H. (Nathan) (b. 1842 - d. 1890)
It is believed that Nathaniel (Nathan) H. Piper, born 1842 and died 1890, the husband of Lucy Ann Cozart Piper, is buried here also but no stone was found un the 2011 survey.

Royster, Vallie M. (b. 10 Jul 1892 - d. 18 Jan 1894)
Daughter of G.W. and L.D. Royster

Smith, Fannie I (b. 17 Oct 1868 - d. 31 Oct 1886)
Daughter of Thomas J. and Sallie M. Smith

Smith, Sallie M. Cozart (b. 18 May 1848 - d. 27 Nov 1919)
Wife of Thomas J. Smith, Daughter of James Christmas Cozart and Jane Harris

Smith, Thomas J. (b. 17 Dec 1847 - d. 24 Apr 1927)
Husband of Sallie M. Cozart Smith. CSA.
Web page updated 16 July 2016
Index of All Cemeteries
Alphabetical Index of All Burials
Previous Page