Index of All Cemeteries
Alphabetical Index of All Burials
Previous Page
Use the following to search across all the cemeteries listed.
Example: "Smith, Roger" (yes, use the quotes)
246 BECK FAMILY (Running Brook Rd)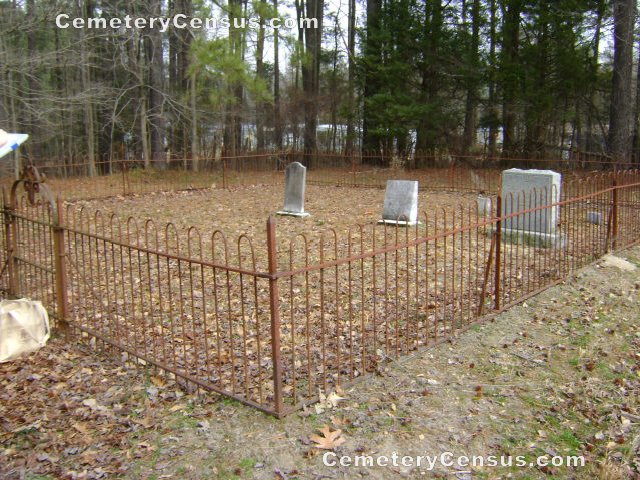 Location - off Coley Rd and Running Brook Rd near Gate One Rd. (West B St.) south of Butner.

Coordinates: 36d 06m 07.0s N; 78d 46m 31.4s W Click here for Google maps

Directions: from Butner take West B St. south; after crossing the railroad tracks take an immediate left onto Coley Rd. Turn left onto Running Brook Rd and proceed to the 3rd house on the left. The cemetery is in the woods behind the single wide and double wide homes.

It is maintained but not used.

Surveyed and photographed by John Stanley in October 2008. Revisited by Joey Dickerson and Mildred Goss, March 2010.


Beck, Calvin Fulghum (b. 25 Oct 1839 - d. 12 Apr 1924)
Husband of Caroline D. Turner Beck. "The Morning Cometh". C.S.A. Veteran.

Beck, Carolina D. Turner (b. 16 Apr 1862 - d. 25 Oct 1901)
Age 59 yrs. Wife of Calvin Fulghum Beck. "She was the sunshine of our home"

Turner, Jacob D. (b. 13 Apr 1832 - d. 2 May 1903)
"Rest in peace till we meet again". C.S.A. Veteran.
Web page updated 16 July 2016
Index of All Cemeteries
Alphabetical Index of All Burials
Previous Page