Index of All Cemeteries
Alphabetical Index of All Burials
Previous Page
Use the following to search across all the cemeteries listed.
Example: "Smith, Roger" (yes, use the quotes)
216 DUNCAN FAMILY (Bob Daniel Rd)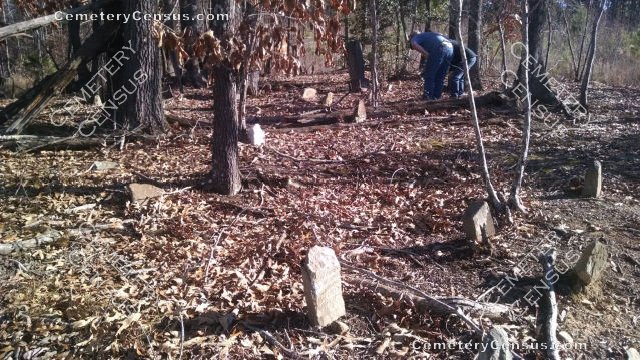 Location - Off of Bob Daniel Rd. in the woods about 100 yards from the road. GPS location is approximate.

Coordinates: 36d 20m 37.3s N; 78d 43m 21.4s W Click here for Google maps

Directions: From Oxford drive toward Berea on Hwy 158W. Turn right on Hebron Rd. then left on Bob Daniel Rd; go 1.5 miles (across from Spanish style house); turn right up a path, pass Dean cemetery on the right; continue on path through the woods until you come to a field. Cemetery is in edge of the woods to the left of the field. It's probably 100 yards from the road.

Canvassed for the Granville County Genealogy Society by Jessie McLam, Kitty Humphries and Robert Slaughter; February 2002. Photos by Elizabeth Golder in December 2014.

View #2 in the cemetery.

This is basically a primitive cemetery. There are a couple of professionally made grave stones. Several graves have inscriptions carved into fieldstones. There are many fieldstones in the area, and the cemetery may contain more graves.


Arrington, H. B. (b. 6 Jun 1880 - d. 29 Jun 1882)

Arrington, W. A. (b. 21 Feb 1886 - d. __ Jun 1___)

D., E. M. (b. Unknown - d. Unknown)
(footstone with initials EMD)

Duncan, David (b. 29 Jul 1829 - d. 29 Dec 1905)

Duncan, Joanne S. (b. 1 Nov 1823 - d. 2 Apr 1881)

Oakley, Claude (b. 21 Jun 1900 - d. 26 Jun 1900)

Oakley, Seavenia B. (b. 20 Apr 1883 - d. 17 Jun 1903)

Roberson, B. E. (b. 4 Oct 1852 - d. 24 Dec 1884)

Roberson, Unknown (b. 18 Jan 1873 - d. 17 Jan 1885)

Unknown, Ann (b. Unknown - d. Unknown)
Web page updated 16 July 2016
Index of All Cemeteries
Alphabetical Index of All Burials
Previous Page