Index of All Cemeteries
Alphabetical Index of All Burials
Previous Page
Use the following to search across all the cemeteries listed.
Example: "Smith, Roger" (yes, use the quotes)
164 ABRAM'S PLAINS PLANTATION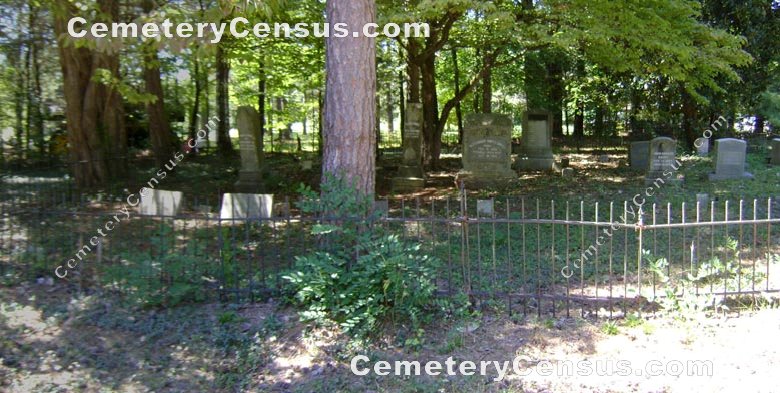 Location - on the west side of Grassy Creek Rd. about 4 miles out of Stovall.

Coordinates: 36d 29m 30.9s N; 78d 36m 39.3s W Click here for Google maps

The Smith family established Abram's Plains plantation about 1766. Col. Smith's grave is one of the oldest known marked graves in present day Granville County. Many of the graves are marked by rectangular stones with only initials and dates. Cemetery data above was taken from the tombstones as well as family info submitted by Pressley Davis and found in the Thornton Library in Oxford. This plantation remains in the family today.

Directions: from Oxford take 15N to Stovall; left on Grassy Creek Rd; go 3.6 miles; lane on right leads to house far off road (entrance marked); go an additional .4 miles on Grassy Creek Rd.; cemetery is on left in grove of trees near road.

Cemetery plaque established 1800.

Canvassed by Jessie McLam; June 2003. Photographs by Mildred Goss in 2010.


Davis, Alexander Smith (b. 9 Feb 1861 - d. 16 Oct 1910)
Davis, Ann Putnam, MSW (b. 29 Mar 1918 - d. 29 May 1991)
Davis, Anne Alexander Downey (b. 9 Oct 1830 - d. 5 Sep 1914)
Wife of Joseph Jonathan Davis
Husband of Rosa Booth Spratley Davis
Son of William Luther Davis and Fannie O. Thornton Davis
Husband of Camilla Webb Davis
Son of Joseph Jonathan Davis and Camilla Webb Davis
Wife of Isaac Hilliard Davis, Jr. DDS
Civil Engineer, Genealogist. Dedicated to the preservation of Adam's Plains.
Wife of William H. Gregory
Husband of Mary J. Davis Gregory
Husband of Arme Beasley Smith. 7th son of Col. Samuel and Mary Smith. Footstone: A.S.
Husband of Mary Webb Smith. North Carolina, Colonel, Granville Regiment, NC Militia, American Revolutionary War. Military marker. WPA lists birth date as 3 Dec 1820, but year should be 1720. Footstone: S.S.
Web page updated 16 July 2016
Index of All Cemeteries
Alphabetical Index of All Burials
Previous Page