Index of All Cemeteries
Alphabetical Index of All Burials
Previous Page
Use the following to search across all the cemeteries listed.
Example: "Smith, Roger" (yes, use the quotes)
153 SMITH, SAMUEL WILLIAM FAMILY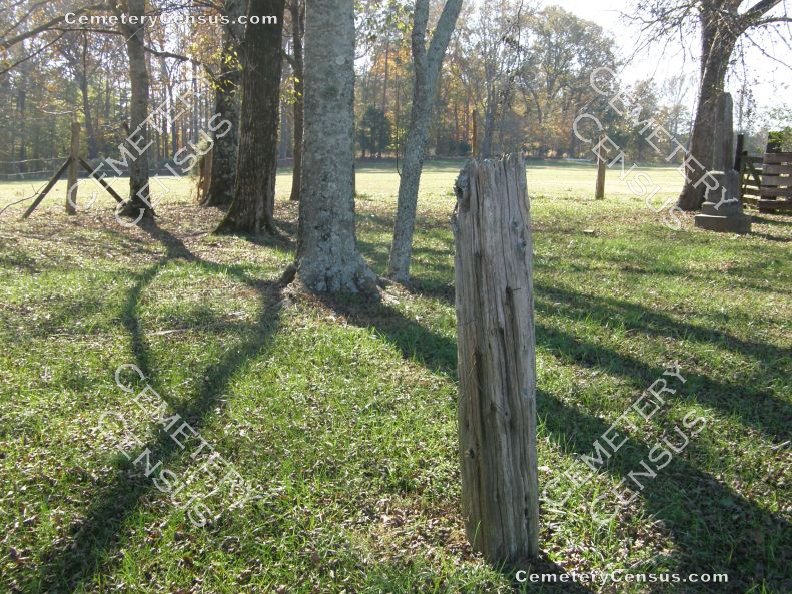 Location - off Hwy 158 about 0.7 mile east of the Hwy 158 - Culbreth Rd. intersection in downtown Berea.

Coordinates: 36d 18m 42.9s N; 78d 43m 26.6s W Click here for Google maps

Directions: from Oxford take Hwy 158W approx 7 miles toward Berea to Shelton Creek Bridge; 0.2 mile past this bridge turn left on a farm road directly across from a house on the right. This farm road, passing a pack house on the right, continues directly into another farm road which was the Old Oxford to Berea highway. Cemetery is ahead just to the left and can be seen 100-150 feet from the present Hwy 158. It is under a very large tree.
From Berea and the Culbreth Rd - Hwy 158 intersection, travel east on Hwy 158 about 0.6 mile and turn right onto a farm path across from a house on your left.

Cemetery picture shows a remaining wooden post from the old wooden fence.

Canvassed by Kitty Humphries, April 1995. This cemetery is poorly maintained.
Photographs by Chotsey Winborne in October 2016 and January 2017.


S., S. W. (b. - d. )
(initials on white rock, possibly footstone of Samuel William Smith)
Son of Samuel William Smith and Isabelle Hinton Green Smith. Brother of Richard Smith (1849-19??). Obelisk.
Field stones marking unknown burial.
Web page updated 18 January 2017
Index of All Cemeteries
Alphabetical Index of All Burials
Previous Page