Index of All Cemeteries
Alphabetical Index of All Burials
Previous Page
Use the following to search across all the cemeteries listed.
Example: "Smith, Roger" (yes, use the quotes)
127 STEM, HAYWOOD FAMILY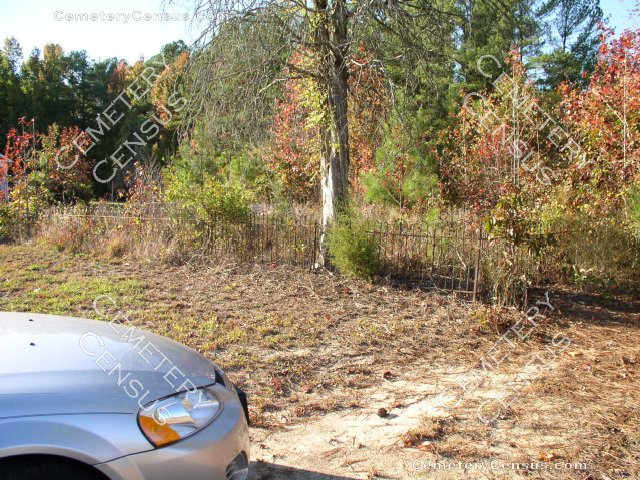 Location - on Old Tally Ho Rd. (SR 1136) about one mile from Sanders Rd. (SR-1132) near Stem.

Coordinates: 36d 13m 04.1s N; 78d 42m 59.2s W Click here for Google maps

Directions: from Stem city limits go 0.6 mile north on Sanders Rd. (SR 1132); turn left on Old Tally Ho Rd. (SR 1136). Drive 0.9 mile and turn right at driveway. Cemetery is on the right of the driveway.

Canvassed by Bonnie Breedlove, Sandra Aiken and Genie Jenkins, April 1995. It is enclosed by a rusty iron fence and is identifiable but not maintained. The unidentified grave is said to be the wife of Aron Stem. View of the rusty entrance gate.

Pictures by Beth Barnhill in November 2007. Pictures by Dwight Wilkins in March 2013.


Averette, Lucy Stem (b. 8 Jul 1875 - d. 3 Mar 1935)

Crymes, Haywood Gladstone (b. 27 Sep 1903 - d. 3 Dec 1903)
Son of Lucius Myrt and Roxie Crymes

Crymes, Lucius Myrtland (b. 16 Jul 1866 - d. 4 Oct 1936)
Husband of Roxie Elizabeth Stem Crymes. Son of Leonard Cyrmes and Margaret Aruin Crymes.

Crymes, Roxie Elizabeth Stem (b. 1 Dec 1871 - d. 6 Dec 1959)
Wife of Lucius Myrtland Crymes

Stem, ?? (b. - d. )
Unidentified Grave, possibly Wife of Aaron Stem.

Stem, Aaron Alonzo (b. 19 Sep 1905 - d. 20 Feb 1965)
Husband of Lola Brooks Stem. (lived and died in Durham NC). Son of Richard A. Stem and Mary Aiken Stem. NC Pvt. 30th Ordnance Co. US Army, WW-I.

Stem, Annie Pearl (b. 22 Sep 1908 - d. 26 May 1910)

Stem, Elijah Elvin (b. 20 Jan 1912 - d. 19 Oct 1912)

Stem, Haywood A. (b. 6 Sep 1850 - d. 28 Dec 1921)

Stem, Malinda Jane (b. 10 Aug 1873 - d. 10 Sep 1924)
Daughter of Haywood A. and Mary Ann Stem

Stem, Mary Ann (b. 12 Aug 1843 - d. 5 Aug 1934)

Stem, Mary Eliza Aiken (b. 3 Oct 1886 - d. 21 Dec 1913)
Wife of Richard A. Stem. "At Rest"

Stem, Richard A. (b. 28 May 1878 - d. 27 Jun 1935)
Husband of Mary Aiken Stem. "Gone but not forgotten"

Stem, Roger Hazel (b. 21 Nov 1910 - d. 8 Mar 1911)
Web page updated 16 July 2016
Index of All Cemeteries
Alphabetical Index of All Burials
Previous Page