Index of All Cemeteries
Alphabetical Index of All Burials
Previous Page
Use the following to search across all the cemeteries listed.
Example: "Smith, Roger" (yes, use the quotes)
115 PREDDY-JEFFREYS FAMILY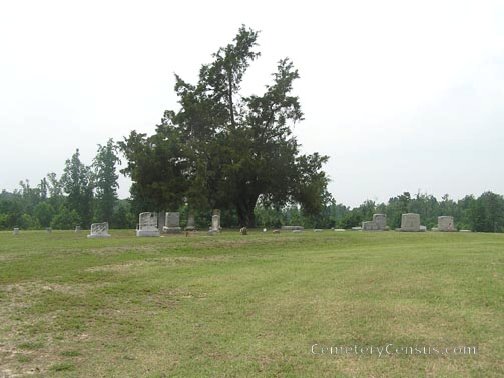 Location - take Hwy 96 toward Wilton from Oxford and turn left on Philo White Rd.; Turn right on Grove Hill Rd. Drive 4.3 miles to the crossroads. There is a white house on the right and the cemetery is behind the house to the left.


Canvassed by Bonnie Breedlove and Jessie McLam, February 2000.

Some pictures provided by Barbara Meyer in February 2007.


Blackley, Lonnie, Jr. (b. 16 Apr 1942 - d. 18 Apr 1942)
Blackley, Tony M. (b. 5 Sep 1939 - d. )
Breedlove, Bettie Bet (b. 3 Feb 1912 - d. 22 Apr 1996)
Breedlove, William Bryant (b. 10 May 1930 - d. 26 Nov 1983)

Freeman, Albert C. (b. 23 Jun 1904 - d. 23 Jan 1938)

Freeman, Bessie (b. - d. )
Funeral Home Marker (said to be Bessie(?), Wife of Ed Freeman)

Freeman, Ed (b. - d. )
Funeral Home Marker (said to be Ed Freeman)

Freeman, Olivia J. (b. 13 Feb 1908 - d. )
Wife of Albert C. Freeman (she's not buried here; she remarried and is buried elsewhere)

Jeffreys, Bettie Preddy (b. - d. )
Wife of Leoindus S. Jeffreys

Jeffreys, J.L. (b. 21 Jun 1875 - d. 23 Nov 1912)

Jeffreys, Leoindus S. (b. - d. )

Jeffreys, Littleton (Pvt) (b. 21 Apr 1824 - d. 8 Oct 1878)

Jeffreys, Lucy Angeline (b. 1 Jun 1843 - d. 18 Oct 1914)

Jeffreys, R.S. (b. 12 Aug 1849 - d. 10 Aug 1887)

Kearney, Alonzo L. (b. 1875 - d. 1896)

Kearney, Cora Lucy (b. 1873 - d. 1900)

Kearney, Edgar L. (b. 1 Dec 1889 - d. 6 Mar 1917)

Kearney, Ella F. (b. 3 Dec 1869 - d. 27 Jan 1890)
Daughter of L.C. and U.(?) F.(?) Kearnery

Kearney, Ida F. (b. 1877 - d. 1904)

Kearney, S. F. (b. - d. )

Kearney, Susan Jeffreys (b. 29 Jun 1852 - d. 13 Jan 1939)

Overton, Donald Thales (b. 29 Dec 1937 - d. 18 Nov 1991)

Overton, Fred F. (b. 26 May 1875 - d. 9 Oct 1953)

Overton, Lucy G. Preddy (b. 9 May 1877 - d. 14 Jan 1942)
Wife of Fred F. Overton. Daughter of Robert and Ettie Preddy

Overton, Luie Coe (b. 22 Nov 1913 - d. 2 Mar 1941)

Preddy, Alberta Vivian (b. 30 Mar 1893 - d. 1 Aug 1977)
Daughter of Robert and Ettie Preddy

Preddy, Annie Lou Hicks (b. 28 Dec 1910 - d. 21 May 1985)

Preddy, Carrie B(lackley) (b. 19 Jun 1875 - d. 27 Aug 1948)

Preddy, Ettie Jeffreys (b. 20 May 1855 - d. 19 Jun 1943)
Wife of Robert Preddy. grandparents of Elmo Preddy

Preddy, Fannie (b. - d. )
Fieldstone (said to be Fannie Preddy)

Preddy, Joseph L. (b. 15 Dec 1874 - d. 29 Jun 1943)

Preddy, Joseph S(anford) (b. - d. 1910)

Preddy, Leo Clifton (b. 9 Apr 1906 - d. 10 Mar 1992)

Preddy, Leonadus L. (b. 28 Sep 1887 - d. 27 Oct 1945)
Son of Robert and Ettie Preddy

Preddy, Myrtle G. (b. 10 Jul 1903 - d. 14 Jan 1923)

Preddy, Robert (b. 22 Jan 1851 - d. 9 Feb 1919)

Preddy, Rom C. (b. 4 Jan 1885 - d. 19 Jan 1971)
Son of Robert and Ettie Preddy

Preddy, Rommy K. (b. 1908 - d. 1909)

Tucker, Hallie Overton (b. 28 Jun 1915 - d. 14 Dec 1984)

Wright, Lucy T. (b. 31 Jul 1829 - d. 2 Mar 1893)
Web page updated 16 July 2016
Index of All Cemeteries
Alphabetical Index of All Burials
Previous Page