Index of All Cemeteries
Alphabetical Index of All Burials
Previous Page
Use the following to search across all the cemeteries listed.
Example: "Smith, Roger" (yes, use the quotes)
020 BULLOCK FAMILY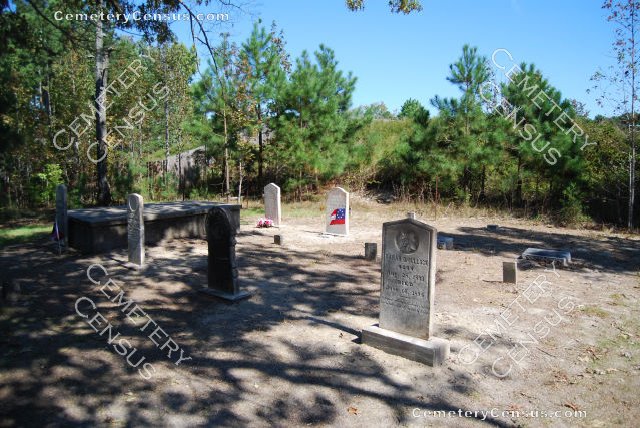 Location - is located on the left 2.8 miles from Creedmoor going east on Hwy 56. At the Paddington subdivision.

Coordinates: 36d 07m 27.3s N; 78d 38m 39.9s W Click here for Google maps

The cemetery had gone into complete neglect over the years. Trees and brush had completely obscured everything. Trees had fallen and broken the grave markers. The markes had fallen over and disappeared under the leaves and debris.

In the summer of 2014, the Sons of Confederate Veterans Camp 2205 of Stem took on a project to clean up and reclaim the abandoned cemetery. All the growth was removed and the area seeded. All the grave markers were repaired and reset into their correct upright positions. The cemetery now looks like a well maintained cemetery in October 2014.

Canvassed by Bonnie Breedlove, June 1995. Revised by Allen Dew in October 2014. All photos by Allen Dew in October 2014.


Bullock, Columbia H. (b. 10 Oct 1851 - d. 4 Feb 1925)
Wife of John T. Bullock. "Blessed are the pure in heart, for they shall see God."
Broken stone. Husband of Sophia Bullock. Son of Michjah Bullock. According to WPA records (1939) - "John D. Bullock, age 77 yrs, 8 mo, 12 days was the son of Michjah Bullock, a Col. In Green's Army, who brought back from the battle of Guilford Court House the Revolutionary flag that is now lent to the Hall of History in Raleigh, NC. Dr. Newson says it is the only one in existence actually carried in battle". Masonic emblem.
Husband of Columbia H. Bullock. Son of John D. Bullock and Sophia Bullock. CSA John T. Bullock - "2nd Lieut. In May 10,1862 Co. #. 23 Reg. Taken prisoner May 12,1864". One of the Immortal 600 Soldiers.
Aged 35 yrs, 6 Mos, 19 Ds. son of John D. Bullock and Sophia Bullock. Masonic emblem.
Free from all cares and pain, asleep my baby lies, Until the final trumpet call the dead to Christ.
Aged 80 yrs, 4 mos. Wife of John D. Bullock
Son of Isaiah J. O'Dear and Mary Susan Hayes O'Dear
Web page updated 16 July 2016
Index of All Cemeteries
Alphabetical Index of All Burials
Previous Page