Index of All Cemeteries
Alphabetical Index of All Burials
Previous Page
Use the following to search across all the cemeteries listed.
Example: "Smith, Roger" (yes, use the quotes)
014 BEASLEY FAMILY (Oak Hill Rd)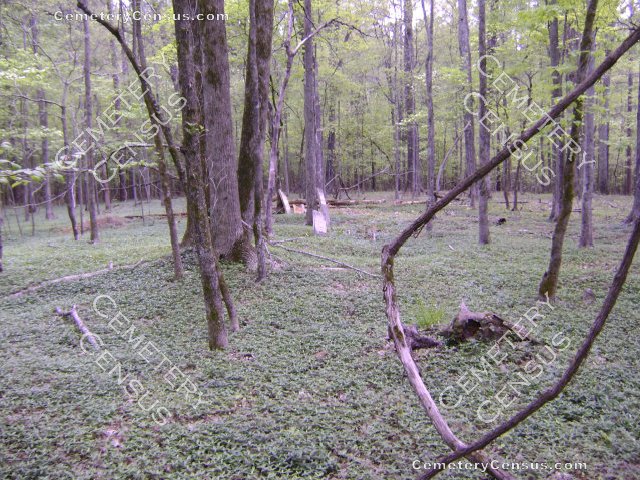 Location - from Oxford drive north on Hwy 96N. Turn right on Oak Hill Rd. Turn right onto a farm lane across from Reuben Hart Rd. (to the left). The cemetery is located about 1/2 mi.in the woods.

Coordinates: 36d 28m 47.0s N; 78d 42m 31.0s W Click here for Google maps

Canvassed by Jessie McLam, Jean Morgan and Lyndsay Hester, February 2000.

Information in Thornton Library states that Sally Pomfret, daughter of John Pomfret Jr. and Sally Pomfret, married Stephen Beasley 10 Mar 1787; the same document states Stephen was born in 1765. Beasley came from England and traveled (lived?) through Connecticut and Virginia, to settle in Granville County, NC near Oak Hill.

Numerous depressions and three fieldstones. Photographs by Joey Dickerson in April 2011.


Beasley, James (b. 27 Apr 1802 - d. 21 Dec 1849)

Beasley, Sarah (b. 7 Jan 1765 - d. 7 Mar 1848)
Wife of Stephen Beasley Sr. Aged 83 yrs 2 mos

Beasley, Stephen, Sr. (b. 10 Dec 1764 - d. 29 Aug 1857)
Husband of Sarah Beasley. Aged 92 yrs 9 mos 19 days.
Web page updated 16 July 2016
Index of All Cemeteries
Alphabetical Index of All Burials
Previous Page