Index of All Cemeteries
Alphabetical Index of All Burials
Previous Page
Use the following to search across all the cemeteries listed.
Example: "Smith, Roger" (yes, use the quotes)
035 CASCINE PLANTATION CEMETERY (Perry Family)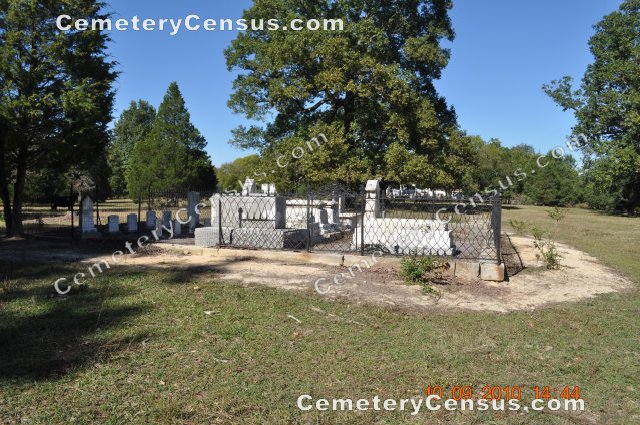 Location - 1018 Bennett Perry Rd, Louisburg.

Coordinates: 36d 02m 21.2s N; 78d 19m 27.0s W Click here for Google maps

This is the family cemetery of Col. Jeremiah Perry (d 1838) and wife Temperance Boddie, located on his plantation known as Cascine. The cemetery is about 200 yards south of the house.

View #2 of the cemetery. View #2 of the cemetery. View #2 of the cemetery. View of the original house. View of the newer house.

Listed on the National Historic Register, Cascine Plantation can be traced to early grants to Jeremiah Perry I and his brother William. From Col Jeremiah Perry (d 1838), Cascine descended to Willie, to Algernon Sidney, to Jeremiah (d 1895), then to Bennett Hester Perry who lived in Henderson and is buried at Elmwood Cemetery in that town. Today, Cascine remains privately owned by Bennett H. Perry, Jr., of Henderson.

Survey and photographs by Preston Wright in June 2012.


Neal, Chloe C. Perry (b. 10 Jun 1803 - d. 14 Oct 1851)
Wife of John Neal. Daughter of Jeremiah Perry and Temperance Boddie Perry
Son of John Neal and Chloe C. Perry Neal
Husband of Martha Leah Hilliard Perry. Son of Jeremiah Perry and Temperance Boddie Perry
Son of Jeremiah Perry and Temperance Boddie Perry
Son of Algernon Sidney Perry and Martha Leah Hilliard Perry
Son of Jeremiah Perry and Temperance Boddie Perry
Son of Algernon Sidney Perry and Martha Leah Hilliard Perry
Husband of Temperance Boddie Perry
Wife of Algernon Sidney Perry
Son of Jeremiah Perry and Temperance Boddie Perry
Daughter of Algernon Sidney Perry and Martha Leah Hilliard Perry
Son of Algernon Sidney Perry and Martha Leah Hilliard Perry
Son of Jeremiah Perry and Temperance Boddie Perry
Wife of James H. Yarborough. Daughter of John Neal and Chloe C. Perry Neal
Son of James H. Yarborough and Elizabeth Temperance Neal Yarborough
Web page updated 7 May 2017
Index of All Cemeteries
Alphabetical Index of All Burials
Previous Page