Index of All Cemeteries
Alphabetical Index of All Burials
Previous Page
Use the following to search across all the cemeteries listed.
Example: "Smith, Roger" (yes, use the quotes)
077 MARSHALL, MATTHEW FAMILY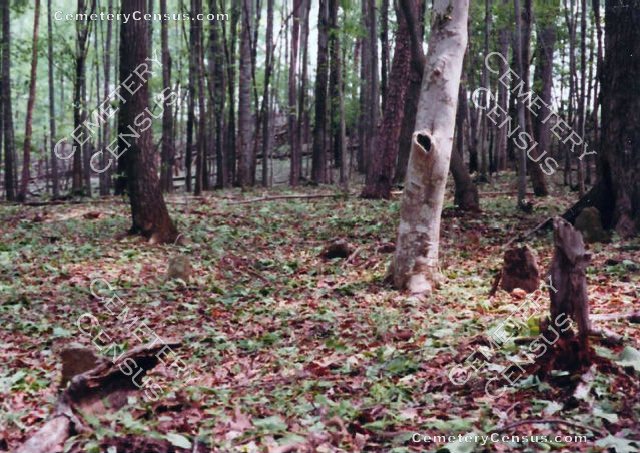 Location - Camp Betty Hastings Road, Walkertown.

Coordinates: 36d 11m 31.0s N; 80d 10m 50.1s W Click here for Google maps

Map coordinates are approximate. Another view in cemetery.

Directions: Camp Betty Hastings Road, Walkertown, Forsyth County, NC (turn left off Old Hollow Road, Hwy. 66, coming from the northwest, crossing intersection with Baux Mountain Road, and heading southeast, approximately 2 miles from intersection, before getting to Walkertown) After turning left on Camp Betty Hastings Road, proceed approximately one mile along the road. Cemetery lies on the left-hand side of road, on a wooded knoll approximately one-fourth mile behind the house of Bill Howard (at least where he lived at time of survey).

Kyle Harrington, a descendant of Matthew Marshall, son of Martin and Eleanor Boswell Marshall*, shared information regarding the cemetery. According to handed-down recollections, the cemetery consists of family and possibly slaves. Probably there are members of the family and possibly even neighbors and/or other relatives.

The gravesite is marked with 14 field stones. Two graves appear to have been dug out, unfortunately.

According to Kyle Harrington and his father, a two-story dwelling, with an outside, upper-story balcony, once stood approximately one-half mile from the cemetery (a brick from one of five chimneys was dated 1820. The house was last occupied in the 1930s. Its ruins were torn down and burned in 1984, and a root cellar is all that remains. A photograph of the house exists.

*Martin (died 1824) and Eleanor (died 1820) Boswell Marshall are both buried on the old Martin Marshall homeplace on Dusty Trails, off Baux Mountain Road, Forsyth County, NC. So they are not buried in this particular cemetery.

Surveyed April 1, 1989 by Phyllis Roberson Hoots.


Web page updated 18 July 2016
Index of All Cemeteries
Alphabetical Index of All Burials
Previous Page