Index of All Cemeteries
Alphabetical Index of All Burials
Previous Page
Use the following to search across all the cemeteries listed.
Example: "Smith, Roger" (yes, use the quotes)
060 ECCLES FAMILY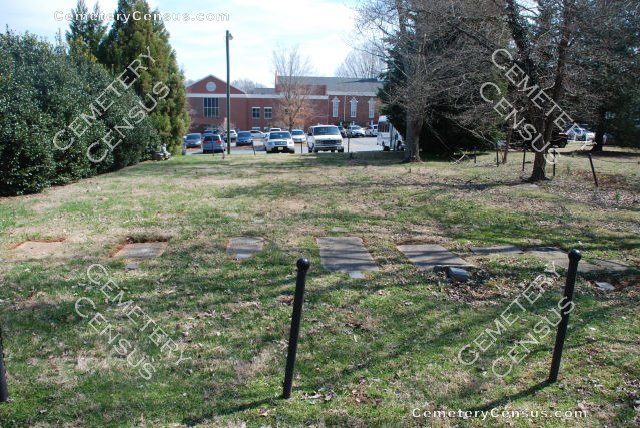 Location - on north side of Hwy 158 and 0.1 mile west of Lewisville-Clemmons Rd.

Coordinates: 36d 01m 17.1s N; 80d 23m 03.8s W Click here for Google maps

Located in the village of Clemmons, behind 3728 Clemmons Road, on Hwy 158, and between the Clemmons United Methodist Church building and the former home of Peter Clemmons. This 40 X 120 cemetery, which was formerly referred to as Crott's Yard or Sprinkle's Back Yard, and having been abandoned and overgrown for many years, was cleaned up through the efforts of Clemmons historian, Carl G Monson of the Clemmons United Methodist Church. There is no sign identifying this cemetery.

Surveyed on 22 Feb 1975 and revisited in 2008. Photographed by Bill Mueller on 27 Mar 2014.


Chaffin, Arthur (b. 12 Apr 1814 - d. 8 Jul 1840)
Son of Pleasant Chaffin and Comfort Clemmons Phelps.

Clemmons, Comfort Coston (b. 12 Mar 1753 - d. 1828)

Clemmons, Infant (b. Unknown - d. Unknown)
Child of Benton Clemmons. Grandchild of Peter and Comfort Clemmons.

Clemmons, Nathan (b. 1815 - d. 1816)
This may be one of the two mentioned children of Martha Patsy Dillon Clemmons and Benton Clemmons.

Clemmons, Peter (b. 1749 - d. 1815)
Husband of Comfort Coston Clemmons. Peter Clemmons was born in 1749 in Accomack County, Virginia. He lived for a while in Kent County, DE and then came to Guilford County, NC in 1777. Being a staunch Quaker, he was opposed to war and slavery. He freed his slaves and decided to move his family to Rowan County, that part now Forsyth County. The tract of land on which he settled became Clemmons, North Carolina.

Douthit, Alpha L (b. 15 Dec 1833 - d. 7 May 1862)
Son of Benton and Paulina Eccles Douthit. Grandson of Henry and Elizabeth Eccles. Served in the Confederate Army for a few months.

Douthit, Jincy M. Eccles (b. Unknown - d. 13 Jul 1830)
1st wife of Stephen Douthit (1808-1870). Daughter of Henry Eccles (1784-1862) and Elizabeth Markland Eccles.

Douthit, Willie Eugene (b. 14 Jul 1855 - d. 1 Aug 1855)
Possibly 1st child of Stephen and Elizabeth Douthit.

Eccles, Elizabeth Markland (b. Nov 1790 - d. 12 Oct 1850)

Eccles, Henry (b. 10 Apr 1784 - d. 18 Sep 1863)
Husband of Elizabeth Markland Eccles. In 1809, Henry Eccles built the Mt Pleasant Church, which is located in present Tanglewood Park, in Clemmons. He carved his initials and the date on a log inside the church.

McIver, James Daniel (b. 25 Jul 1840 - d. 5 May 1863)
Son of Dr. Evander McIver and Eliza Clemmons McIver. Sgt Co A 21 Regt NC Inf, Confederate States Army.

Moss, Eugene L (b. 28 Mar 1853 - d. 3 Jul 1854)
Son of Adolphus A. Moss and Louisa Caroline Eccles Moss.

Moss, Henry T (b. 7 Nov 1846 - d. 19 Jun 1852)
Son of Adolphus A. Moss and Louisa Caroline Eccles Moss.

Schaub, Anna Rachel (b. Oct 1806 - d. 7 May 18??)
Born near Bethania, NC. Died May 7 18??. May be mother of Beatus, buried here as an infant and born and died May 5, 1850. She may be daughter of Johannes Stockburger and Sarah Leinbach.

Schaub, Beatus (b. 5 May 1840 - d. 5 May 1840)
May be son of Anna Rachel Schaub.
Web page updated 18 July 2016
Index of All Cemeteries
Alphabetical Index of All Burials
Previous Page