Index of All Cemeteries
Alphabetical Index of All Burials
Previous Page
Use the following to search across all the cemeteries listed.
Example: "Smith, Roger" (yes, use the quotes)
002 POPE CEMETERY (Jacob Ing)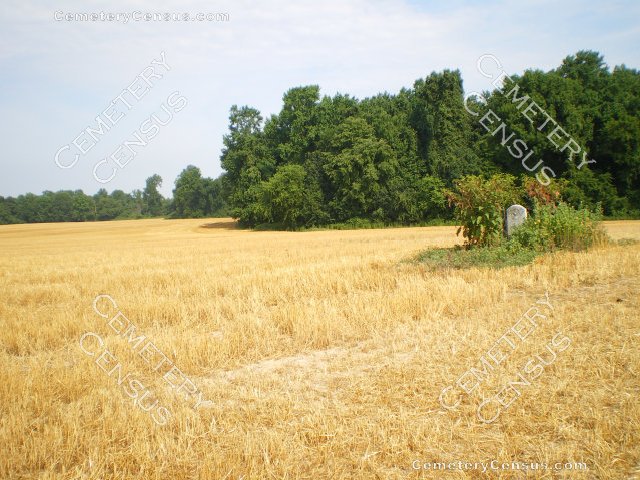 Location - off Marriott Rd on the Pope Farm northeast of Battleboro.

Coordinates: 36d 03m 47.2s N; 77d 44m 04.7s W Click here for Google maps

Directions: From US Hwy 301 in Battleboro, turn east on West Bridges Street. Go across railroad tracks (entering Edgecombe County) and proceed east on East Bridges Street. Turn left on Gainor Avenue and go about 1 mile (the road name will change to Marriott Road after a little ways). The cemetery will be in the middle of a field on the north side.

This apparently small cemetery lies northeast of Battleboro, NC on the north side of Marriott Road. There is only one marked grave for Jacob Ing, and is not known if other graves exist.

Surveyed by Mark W. Wheeless on January 21, 2013,


Ing, Jacob (b. Abt 1786 - d. 5 Dec 1869)
Son of Christopher Ing and Mary Whitehead Pope Ing. In 1827 he was appointed a postmaster at the Philips Store in the Arrington Community of Nash County. In January 1869 he was still listed as a postmaster. He was a relative of the Pope family in that area since his mother married 1st to West Pope who died in 1784. Mary Whitehead married 2nd to Christopher Ing. Jacob had several free persons of color that lived on his farm from the early 1800s through the 1860s. They were recorded as Mulatto in the federal census at that time. Closeup of marker. Another photo of grave marker.
Web page updated 24 December 2016
Index of All Cemeteries
Alphabetical Index of All Burials
Previous Page