Index of All Cemeteries
Alphabetical Index of All Burials
Previous Page
Use the following to search across all the cemeteries listed.
Example: "Smith, Roger" (yes, use the quotes)
287 CARLTON FAMILY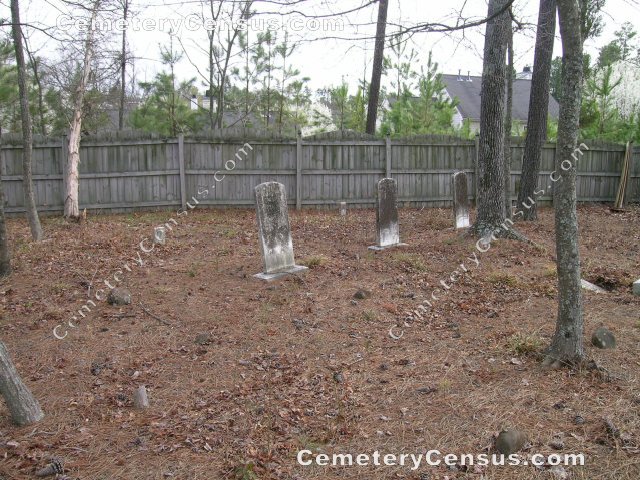 Location - near the intersection of Tapestry Terrace and Alderbrook Lane in the Gaithers Pointe sub-division of Hope Valley Farms.

Coordinates: 35d 56m 23.1s N; 78d 55m 53.0s W Click here for Google maps

Surveyed, documented and photographed by Harvey Estes on 7 March 2011.
View #2 of the cemetery. View of the intersection sign.

This family cemetery is located near the intersection of Tapestry Terrace and Alderbrook Lane. It is adjacent to a home, 4511 Alderbrook Lane, and is surrounded by a gray wood fence. The unlocked entry is located on the corner of the fenced in area nearest to the above home. The plot is reasonably clear of underbrush, but contains trees of about 6 inch diameter, one of which (a dead one) has fallen over the fence on the side opposite to Alderbrook Lane. There are four marked graves, with headstones. One has fallen off its base, but is intact and lying, face up, on the grave site. There are seven identifiable graves that are unmarked, except for the presence of head and foot field stones, oriented east to west, parallel with those graves with headstones.

First hand accounts place the location of the Carlton homestead, a log cabin built of hand hewn square oak logs, about a hundred feet east of the location of the graveyard, probably in the opposite quadrant of the intersection. The whole home/grave site was carefully terraced, indicating that it was carefully planned and tended. It was intact well into the 1960-70 time frame. The doors had hand forged strap hinges, and there was a stone fireplace on one end, with a well made stone chimney. The
doors were down, and the windows broken, but the roof was still more or less intact, and detritus from the household was still scattered about inside, including an old oak bed.

Henry Carlton was a farmer, who married Amelia (Millie) Trice, daughter of a nearby family (on Hope Valley Road). Henry and Millie had four daughters, all of whom married sons of nearby families (Martha m. Howard, Caroline m. Hurst, Minnie m. Shepherd, and Nannie m. George Pope).

The marked graves are listed below.


Carlton, Amelia "Millie" B. Trice (b. 18 Feb 1816 - d. 1 Feb 1900)

Carlton, Henry T. (b. 15 Jul 1811 - d. 27 Jan 1900)
Husband of Amelia "Millie" B. Trice Carlton

Howard, Martha F. Carlton (b. 15 Jul 1838 - d. 5 Jan 1900)
Daughter of Henry T. Carlton and Amelia B. Trice

Hurst, Caroline Carlton (b. 5 May 1841 - d. 3 Feb 1900)
Daughter of Henry T. Carlton and Amelia B. Trice
Web page updated 23 December 2015
Index of All Cemeteries
Alphabetical Index of All Burials
Previous Page