Index of All Cemeteries
Alphabetical Index of All Burials
Previous Page
Use the following to search across all the cemeteries listed.
Example: "Smith, Roger" (yes, use the quotes)
271 DUKE UNIVERSITY CHAPEL CRYPT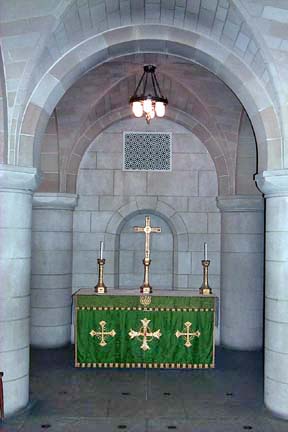 The crypt is located in Duke University Chapel on the campus of Duke University.

Coordinates: 36d 00m 04.0s N; 78d 56m 22.0s W Click here for Google maps

It has an alter and about thirty seats. Student groups sometimes hold prayer services and bible studies here.


Cleland, Alice Mead (b. 1901 - d. 1998)
Wife of James T. Cleland. (Her ashes only). Married in 1932.

Cleland, James T. (b. 1903 - d. 1978)
Former Dean of Duke Chapel. (His ashes only). Born in Glasgow, Scotland.

Duke, Benjamin Newton (b. 27 Apr 1855 - d. 1929)

Duke, James Buchannan (b. - d. 1925)

Duke, Nanaline Holt Inman (b. abt. 1870 - d. 1962)
2nd Wife of James Buchannan Duke

Duke, Washington (b. - d. )
Father of James Buchannan Duke and Benjamin Newton Duke.

Few, William Preston (b. 1867 - d. 1940)
First President of Duke University 1924-1940. Last President of Trinity College 1910-1924.

Hart, Julian Deryl (b. 1894 - d. 1980)
Fourth president of Duke University (1960-1963).

Hart, Mary (b. - d. )
Wife of Julian Deryl Hart

Sanford, Terry (b. 20 Aug 1917 - d. 18 Apr 1998)
President of Duke University 1969-1985. Governor of North Carolina 1961-1965. United States Senator 1987-1993. US Army, WW-II. NC State Senator 1953-1955.

Thomas, James A. (b. - d. )
Chairman of the Duke Memorial Association. (His ashes only)
Web page updated 23 December 2015
Index of All Cemeteries
Alphabetical Index of All Burials
Previous Page