Index of All Cemeteries
Alphabetical Index of All Burials
Previous Page
Use the following to search across all the cemeteries listed.
Example: "Smith, Roger" (yes, use the quotes)
264 BARBEE, CHRISTOPHER AND WILLIAM FAMILY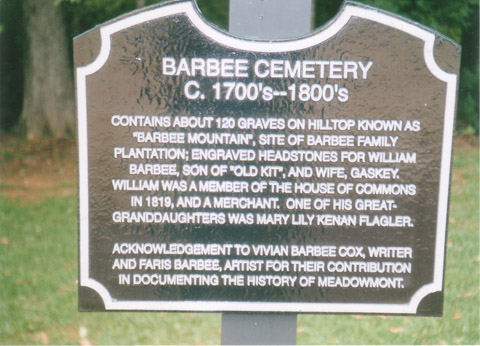 Located on the former Meadowmont estate of the DuBose Family, north of Route 54 east of Chapel Hill.

Coordinates: 35d 54m 53.0s N; 78d 59m 38.0s W Click here for Google maps

The estate was developed in the late 1990s as the UNC Executive Education Center, or Rizzo Conference Center at Meadowmont. Then the surrounding area was transformed into 'Meadowmont.' The cemetery is located a short distance east of the main house. The facility is private, and permission should be requested in advance to visit the cemetery (McLean Hall, 150 DuBose Home Lane, Chapel Hill, NC 27517, phone 919-913-2098; one-half mile north of Route 54 on Meadowmont Lane, right onto DuBose Home Lane).

The site and cemetery were surveyed by archaeologists from the University of North Carolina in late 1995 and early 1996, and a report was issued that extensively documents the cemetery. Milton D. Forsyth Jr. of the Durham-Orange Genealogical Society visited the cemetery as a guest of the archaeologists in March 1996 and recorded the inscriptions on the stones, which are also given in the report (not readily available) along with photographs of the stones and cemetery.

Only the stones of William and Gaskey Barbee have inscriptions, but there is a clearly a group of some 20 burials indicated by fieldstones and separated from a second group of at least 100. The first group is clearly family burials, and it is reasonable that William's father, Christopher (Kit) Barbee and his wife, are buried here, as this was known as 'Barbee's Mountain' and was their home. The second group of graves are probably slave burials. The State intends to preserve the cemetery. Christopher Barbee was the major donor of land for the university; William was both steward and superintendent of grounds for the university.


Barbee family burials (b. - d. )
View of portion of Barbee family burials in cemetery of William and Christopher Barbee, Meadowmont/Rizzo Conference Center. Standing stone that of Gaskey Barbee. This large cemetery contains slave graves in addition to some other unidentified Barbee family graves.

Barbee, Gaskey (b. 17 Nov 1780 - d. 4 Jun 1850)
Stone reads: In Memory of Gaskey Barbee/ BN Nov 17th 1780/ DCD Jun TH 4 1850. Footstone: J F W (??) carved on top.

Barbee, William (b. 4 Sep 1777 - d. 16 Jul 1857)
Stone, fallen and broken, reads: In Memory of William Barbee/ BN Sept TH 4 1777/ DCD JU()() 16 18()7. Footstone: unmarked.
Web page updated 23 December 2015
Index of All Cemeteries
Alphabetical Index of All Burials
Previous Page