Index of All Cemeteries
Alphabetical Index of All Burials
Previous Page
Use the following to search across all the cemeteries listed.
Example: "Smith, Roger" (yes, use the quotes)
261 SQUIRE D. UMSTEAD CEMETERY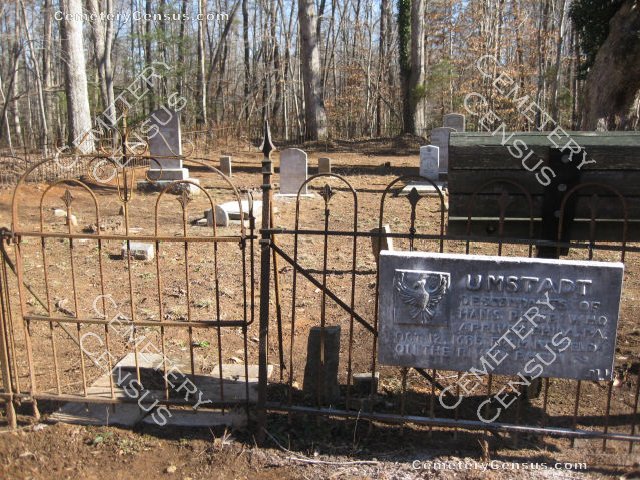 Cemetery is located on private property, now owned by Jeffrey and Tammy Wilmoth of 9404 Wilkins Road.

Coordinates: 36d 10m 34.0s N; 78d 51m 42.0s W Click here for Google maps

The property originally contained the old home place of Squire D. Umstead (1817-1892), father of several Durham businessmen prominent during the first decades of the 1900s, and grandfather of Gov. William B. Umstead and his brother John Umstead for whom the Umstead hospital at Butner is named. In 2006, the old home place was torn down.

To get to the cemetery from Durham, go north on Roxboro St. to the Bahama Road. Turn right on Bahama Road, go through Bahama, and immediately after crossing the bridge over the Flat River turn left onto Wilkins Road. Turn into the first driveway on the right which is the Wilmoth driveway. The cemetery is located past the house and through a wooden fence. It is enclosed in an old metal fence.

Cemetery survey was conducted in October 1997 by Seth L. Warner. Photographs by Dwight Wilkins in January 2010 from some old pictures. New photos provided in January 2014 by Linda Hester.

The old cemetery plaque: UMSTADT - Descendants of Hans Peter who arrived Phila. PA. Oct. 17, 1685 from Krefild on the river Rhein.
View #2 of the cemetery from old photograph.


Umstead, Ann Eliza (b. 24 Jun 1850 - d. 6 Oct 1857)
Daughter of S.D. and Martha W. Umstead
Son of S.D. and Martha W. Umstead. Died at Camp Fisher on the Potomac. Sergeant, Co. B, 6th NC Infantry, C.S.A. Age 20 yrs 11 mos 13 days.
Wife of John W. Umstead. Daughter of Carter and Margaret Waller. Age 32 yrs 11 mos 15 days. Closeup.
Wife of S.D. Umstead. Age 74 yrs 3 mos 1 days. Closeup.
Age 55 yrs 2 mos 28 days. Husband of Martha W. Umstead. Closeup.
Wife of Dewitt C. Umsted. Daughter of Joseph and Edith Lunsford. In 21st year of her age.
Husband of Sallie M. Wilkins. "Descended from France". Another view.
Web page updated 23 December 2015
Index of All Cemeteries
Alphabetical Index of All Burials
Previous Page