Index of All Cemeteries
Alphabetical Index of All Burials
Previous Page
Use the following to search across all the cemeteries listed.
Example: "Smith, Roger" (yes, use the quotes)
223 SLATER, R. H. FAMILY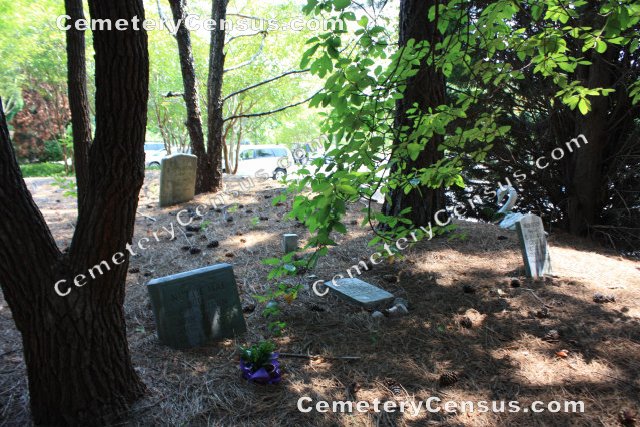 Located in Nelson area of Triangle Township off Slater Rd in an office parking lot in a grove of trees.

Coordinates: 35d 52m 37.4s N; 78d 50m 30.6s W Click here for Google maps

Directions: from I-40W, exit 282 onto Page Road, make right turn, then left on Emperor Blvd, then right on Slater Road. Cemetery sits in a grove of trees within the parking lot behind the first office building on the left.

This abandoned cemetery has six graves, four with legible markers dated 1892 to 1912. Canvassed by Mrs. Sam McPherson and Louise G. Parrish (1980).

Cemetery re-visited by Tammy Hughes in August 2012. Photographs by Tammy Hughes.

Another view of cemetery.


Green, John P. (b. 14 Aug 1907 - d. 15 Sep 1907)
Son of C.B. and Nettie Mae Green. "Our Loved One" - this stone has fallen over.

Green, Nettie Mae (b. 23 Jul 1877 - d. 28 Aug 1907)
Wife of C.B. Green. "She was the sunshine of our home".

Green, Winford (b. 13 Dec 1910 - d. 11 Jul 1912)
Son of C.B. and A.B. Green. "Our Loved One".

Slater, R. H. (b. 25 Dec 1829 - d. 10 Oct 1892)
Web page updated 23 December 2015
Index of All Cemeteries
Alphabetical Index of All Burials
Previous Page