Index of All Cemeteries
Alphabetical Index of All Burials
Previous Page
Use the following to search across all the cemeteries listed.
Example: "Smith, Roger" (yes, use the quotes)
206 WEATHERSPOON, R. T. -O'BRIANT-DUPREE-STONE FAMILIES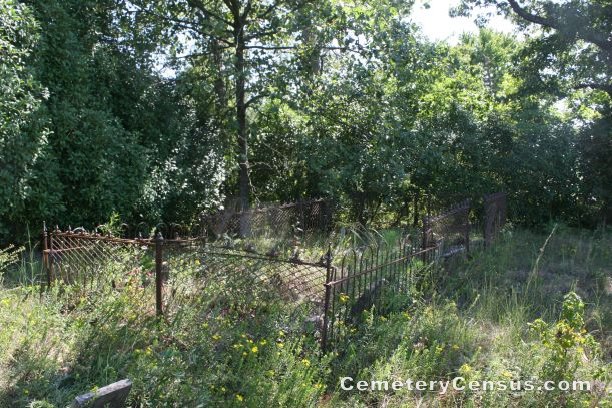 Located in Nelson area of Triangle Township between Emperor Drive and Hopson Steet in the 5600 block of S. Miami Blvd. (SR-1959) on the southeast corner of Hopson St., facing S. Miami Blvd. close to the Durham-Wake County line.

Coordinates: 35d 52m 33.8s N; 78d 51m 03.0s W Click here for Google maps

This abandoned cemetery has at least 18 graves, 17 with legible markers, enclosed by fence and one grave outside fence. Canvassed by Mrs. S. D. McPherson and Louise G. Parrish (1980). Surveyed again by Shirley Olson on July 6, 2005.

Pictures provided by Daniel Walton in September 2008.

There is a spot to park adjacent to the grassy knoll where the cemetery is mostly hidden among trees and brush. This is an abandoned cemetery on a small parcel of land which sits on the corner of 2 busy roads and next to a commercial site accessed by Emperor Drive.

Broken headstone next to Etta Johnson, unreadable.
Small headstone under large bush, unreadable.


Barbee, P. H. (b. 1826 - d. 1891)
Dupree, W. R. (b. 12 Nov 1858 - d. 5 May 1926)
"His toils are past, his work is done. He fought the fight - the victory won."
daughter of Hugh and Ella Green
husband of Eva Caroline Dupree O'Briant
son of J.L. and M.E. Tilley
broken stone beside Etta Johnson
Age 13. son of R.T. and Sarah Weatherspoon
daughter of R.T. and Sarah Weatherspoon
husband of Sarah A. Weatherspoon
Wife of R.T. Weatherspoon (stone broken in two parts)
Age 9. daughter of R.T. and Sarah Weatherspoon
Web page updated 23 December 2015
Index of All Cemeteries
Alphabetical Index of All Burials
Previous Page