Index of All Cemeteries
Alphabetical Index of All Burials
Previous Page
Use the following to search across all the cemeteries listed.
Example: "Smith, Roger" (yes, use the quotes)
171 GREEN-ROGERS FAMILY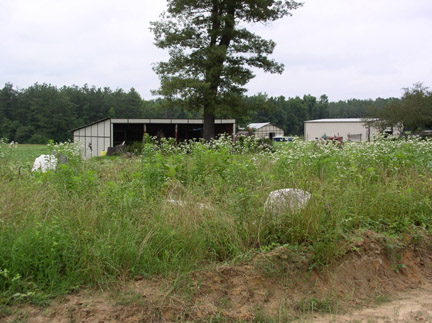 Located in Oak Grove Township at 2107 Hamlin Road, about two-tenths of a mile east of the Durham County school bus garage, and one and one-half mile west of intersection of Red Mill Road in a field west of large house on north side of road.

Coordinates: 36d 03m 40.0s N; 78d 51m 00.0s W Click here for Google maps

This abandoned cemetery has seven graves with legible markers dated 1862 to 1870. Canvassed by Jean B. Anderson (1980). Pictures of all found markers provided by Allen Dew in June 2003. House at 2107 Hamlin Road


Green, Anne Brooks (b. 6 Apr 1809 - d. 7 May 1865)
Spouse - Mager Green. 'In memory of', 'She died in the triumphs of faith, and descended to mansions of eternal ...ty'

Green, Eleann M. (b. 2 Feb 1840 - d. 9 Jun 1862)

Green, Mager A. (b. 30 Aug 1841 - d. 26 Mar 1870)
Son of Mager and Anne Brooks Green. 'In memory of', 'Though his life was a life of despondency, yet he ...idently believe he had ...'.
Notes: Mager married to Martha M. Latta. Bond date 8 Jan 1866, marriage date 10 Jan 1866. Bondsman was William Hamlen [Hamlin] who married Mager A. Green's sister Sally Green. Notes provided by Sally Gray from the Orange County Marriage Bonds Volume 1 page 162 (Washington DC: For the Genealogical Society of Utah, 1936).

Green, William Joshua (b. 24 Feb 1851 - d. 2 Nov 1874)
'In memory of'. Marker is broken into two parts.

Hamlin, Missouri F. (b. 20 Apr 1860 - d. 13 Dec 1862)
Aged 2 years, 7 months and 23 days. 'The child is not and I whither shall I go.'

Rogers, Benjamin P. (b. 14 Apr 1866 - d. 18 Aug 1866)
Son of Benjamin Y. and Elizabeth F. Rogers. 'Suffer little children to come unto me and forbid them not for of such is the Kingdom of God.'

Rogers, Benjamin Y. (b. - d. )
Spouse - Elizabeth F. Rogers

Rogers, Elizabeth (b. 22 Jun 1848 - d. 18 Mar 1865)

Rogers, Elizabeth F. (b. 23 Jun 1843 - d. 13 Mar 1867)
Spouse - Benjamin Y. Rogers. 'Rest dear one rest. The conflicts are ...'

Rogers, Lucy Ogburn Leathers (b. 9 Oct 1789 - d. 22 May 1859)

Rogers, Sion H. (b. 10 Nov 1860 - d. 16 Oct 1864)
Eldest son of Benjamin Y. and Elizabeth F. Rogers. 'Ere sin could blight or sorrow fade, death timely came with friendly care the opening bud to heaven conveyed, and bade it bloom forever there.'
Web page updated 23 December 2015
Index of All Cemeteries
Alphabetical Index of All Burials
Previous Page