Index of All Cemeteries
Alphabetical Index of All Burials
Previous Page
Use the following to search across all the cemeteries listed.
Example: "Smith, Roger" (yes, use the quotes)
071 RIGSBEE FAMILY [DUKE UNIVERSITY WEST CAMPUS]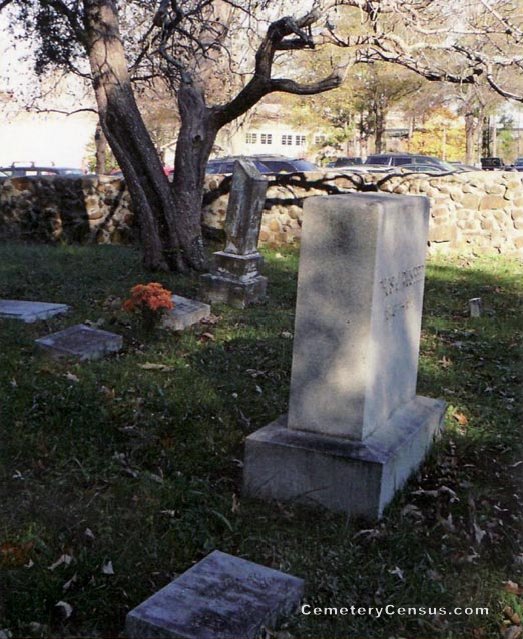 Located in Durham on the Duke University West campus near the stadium off Duke University Road.

Coordinates: 35d 59m 42.0s N; 78d 56m 23.0s W Click here for Google maps

This maintained but unused cemetery has eight graves with inscribed markers and nine graves marked by native stones. It is enclosed by a stone wall. Canvassed by Jean Anderson, Mildred Harris, and Jeff Upchurch (1980). A Rigsbee relative remembered that it was here that three Confederate soldiers were buried, their bodies having been found following one of the last skirmishes in the area. Only their soiled uniforms indicated they were soldiers. The Rigsbees washed the uniforms, redressed the bodies, and buried them in this family cemetery, saying, 'Hopefully, someone will do the same for our folks.'

All photographs by Chrissy DiNicola.


Anderson, Jane (b. 18 Dec 1839 - d. 29 Jun 1915)

Pickett, William J. (b. 24 Mar 1857 - d. 19 Dec 1912)

Rigsbee, Jesse (b. 22 Jun 1808 - d. 1 Feb 1881)

Rigsbee, Margaret (b. 30 Apr 1904 - d. 1 Dec 1907)

Rigsbee, Mary (b. 10 May 1810 - d. 23 Jul 1889)
Wife of Jesse Rigsbee. Married 21 Jul 1831.

Rigsbee, Nancy H. (b. 18 Nov 1848 - d. 3 Jun 1880)
Wife of Thomas J. Rigsbee

Rigsbee, Thomas J. (b. 1846 - d. 1917)
Husband of Nancy H. Rigsbee

Rigsbee, Thomas J., Jr. (b. 1887 - d. 1924)
Web page updated 23 December 2015
Index of All Cemeteries
Alphabetical Index of All Burials
Previous Page