Index of All Cemeteries
Alphabetical Index of All Burials
Previous Page
Use the following to search across all the cemeteries listed.
Example: "Smith, Roger" (yes, use the quotes)
044 COOK, GEORGE AND MARTHA FAMILY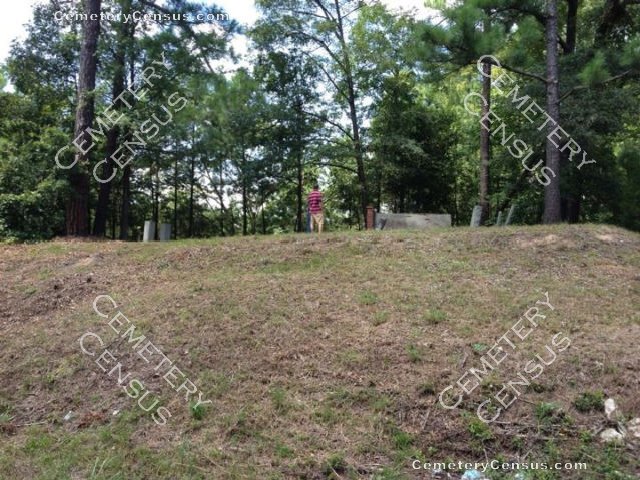 Located in Durham in the Riddle Heights neigbhorhood on Ardmore Drive.

Coordinates: 35d 57m 06.0s N; 78d 55m 07.0s W Click here for Google maps

This abandoned cemetery (last burial, 1963) has 10 graves, nine of which have legible markers. Most descendants added an 'e' to the family name.

View #2 of the cemetery.

Canvassed by Lucinda Wies Hamilton (1981). Cemetery photos by Jack Hall in July 2013.


Cook, (Baby) (b. 2 Nov 1907 - d. 2 Nov 1907)

Cook, (Baby) (b. 5 Apr 1924 - d. 5 Apr 1924)

Cook, A. T. (b. 1 Aug 1889 - d. 19 Apr 1963)
Spouse - Mamie M. (C. L.?) Cook

Cook, Dora O. (b. 17 Dec 1904 - d. 20 Feb 1905)

Cook, George W. (b. 19 Mar 1851 - d. 24 Mar 1941)

Cook, L. B. (b. 20 Jan 1874 - d. 12 Apr 1930)

Cook, Mamie M. (b. 26 Jan 1888 - d. 27 Feb 1920)
Spouse - A. T. (A. M.?) Cook

Cook, Martha E. (b. 25 Dec 1852 - d. 18 Dec 1911)

Cook, Ola (b. 29 Oct 1917 - d. 25 Mar 1918)
Web page updated 23 December 2015
Index of All Cemeteries
Alphabetical Index of All Burials
Previous Page