Index of All Cemeteries
Alphabetical Index of All Burials
Previous Page
Use the following to search across all the cemeteries listed.
Example: "Smith, Roger" (yes, use the quotes)
001 HAYWOOD GAINEY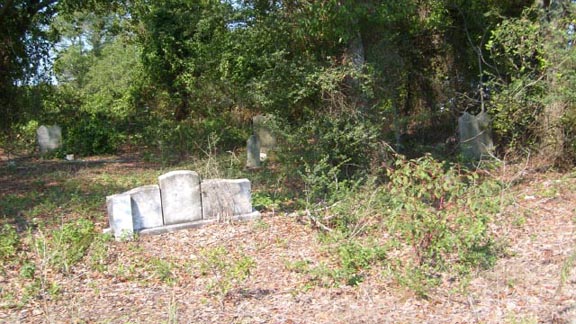 Location - about 4.5 miles north of Stedman in Eastover Township, Cumberland Co, N. C. northeast 1.1 miles on Maxwell Rd (S. R. 1006), about 200 yards behind the residence at 7745 Maxwell Rd.

Coordinates: 35d 04m 31.0s N; 78d 41m 06.0s W Click here for Google maps

It has not been cared for in several years. About 100 yards to the north of this cemetery is a larger cemetery for blacks that is well cared for.

Surveyed by W. R. Shatterly in October 2007.


Autry, Annie K. (b. 31 Oct 1871 - d. 16 Feb 1922)
daughter of William W and Sarah J Autry

Autry, Emmit (b. 12 Dec 1878 - d. 21 Oct 1886)
son of William W and Sarah J Autry

Autry, Henrietta (b. - d. 4 Mar 1901)

Autry, Langford P. (b. 4 Dec 1873 - d. 4 Jun 1876)
son of William W and Sarah J Autry

Autry, Raeford (b. - d. )
husband of Henrietta Autry

Autry, Sarah J. (b. 10 Mar 1843 - d. Jan 1881)

Autry, William W. (b. 12 Dec 1840 - d. 1 Dec 1910)

Gainey, Annie E. Maxwell (b. 4 Jan 1829 - d. 25 Oct 1916)

Gainey, Catherine (b. - d. 20 Sep 1880)
Aged 89, wife of Haywood Gainey

Gainey, Emma B. (b. 14 Jul 1876 - d. 18 Apr 1933)

Gainey, Gilead (b. 10 Nov 1855 - d. 26 Apr 1935)
husband of Emma B Gainey, husband of Mary Gainey

Gainey, Haywood (b. - d. 24 Sep 1881)
Aged 78 yrs, husband of Catherine Gainey

Gainey, Infant (b. - d. )
son of Gilead and Mary Gainey

Gainey, Infant (b. - d. )
son of Gilead and Mary Gainey

Gainey, J. S. (b. 1 Jun 1822 - d. 11 Feb 1887)
husband of Annie E Maxwell Gainey

Gainey, Mary (b. 7 Sep 1858 - d. 18 Jan 1911)

Gainey, Meta Gladis (b. 16 Jul 1897 - d. 1 Feb 1899)
daughter of Gilead and Mary Gainey

Strickland, Honesta G. (b. - d. Jun 1883)
Age 4 yrs. daughter of Lewis W and Alice Strickland

Strickland, Infant (b. Oct 1886 - d. Oct 1886)
daughter of Lewis W and Alice Strickland

Strickland, Lewis W. (b. - d. 20 Apr 1911)
Web page updated 13 May 2017
Index of All Cemeteries
Alphabetical Index of All Burials
Previous Page