Index of All Cemeteries
Alphabetical Index of All Burials
Previous Page
Use the following to search across all the cemeteries listed.
Example: "Smith, Roger" (yes, use the quotes)
592 COPELAND [L42.1]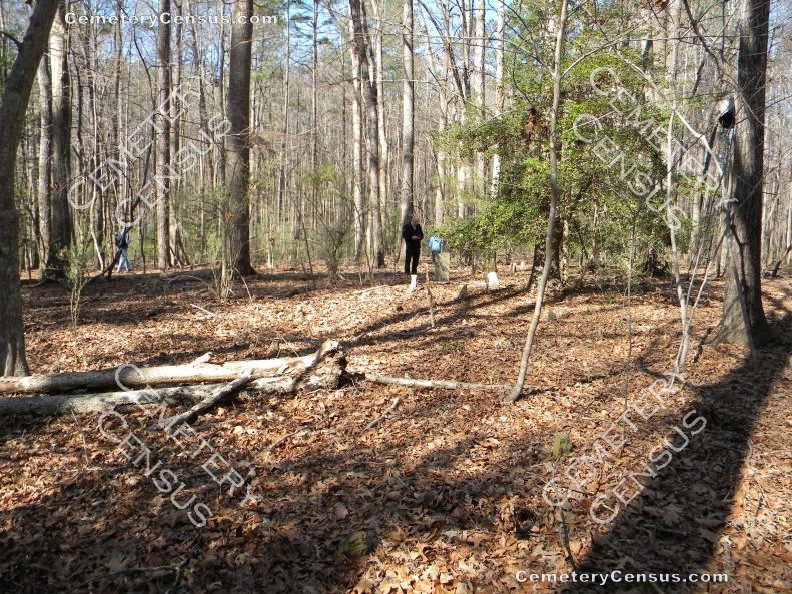 Location - Center Township. SE of the intersection of Gum Springs Church Rd. and Providence Church Rd. Address 4144 Gum Springs Church Rd. The cemetery is approx. .23 mi south of Providence Church Rd. E and .3 mi east of Gum Springs Church Rd.

Coordinates: 35d 41m 35.9s N; 79d 05m 44.1s W Click here for Google maps


View #2 of the cemetery. View #3 of the cemetery.

Owner: Chatham Park Investors, LLC.

Legal Description: Parcel 7617; 1291/1068, 17 Oct 2006, from Wilbur Moore and Willodeen G. Wagner to Chatham Park Investors, LLC. Plat 2006-416 shows approx. location of cemetery. Deed 452/91 13 May 1982, Vera C. Moore to Vera C. Moore and Wilbur Moore. Plat 35-49 references "old Gunter Road." DB 341/291, 11 Feb 1969 from Sarah Buelah Copeland to Vera Lee C. Moore, references IJ/89, IJ/67, IJ 86. Also references "Old Moore Mill Rd." FJ/110 Basil M. Sanders and wife Mary Jane to John D. Sanders, 9 acres. Shown on plat 2006-416.

Topo Quadrant: Merry Oaks. Code L.
Family Owned: Yes.
Currently status: Abandoned.
Cemetery size: 35'x90'
Approximate graves: 25-30.
Type: White.
Restricted access: Yes. Private property.
Condition: Overgrown, but easily identifiable.
Enclosed: No.
Markers present: Yes.
Inscribed markers: Yes.
Number of readable markers: 1.
Last burial: 1855
First burial: 1855
Markers damaged: No.
Listed: No.

Miscellaneous information: Visited and photographed 3 Mar 2017 by Bill Oestereich (Chatham Park property manager), Paul Webb, Jim and Bev Wiggins.

Last canvassed by: Survey by Bev Wiggins on 3 Mar 2017.


Copeland, Jennet (b. 8 Oct 1812 - d. 16 Jul 1855)
Wife of Nicholas Copeland. In Memory Of. Material Marble. Condition Good. Footstone: JC; maker's mark "Lauder".
Web page updated 13 May 2017
Index of All Cemeteries
Alphabetical Index of All Burials
Previous Page