Index of All Cemeteries
Alphabetical Index of All Burials
Previous Page
Use the following to search across all the cemeteries listed.
Example: "Smith, Roger" (yes, use the quotes)
586 BELMONT PLANTATION [Q67.1]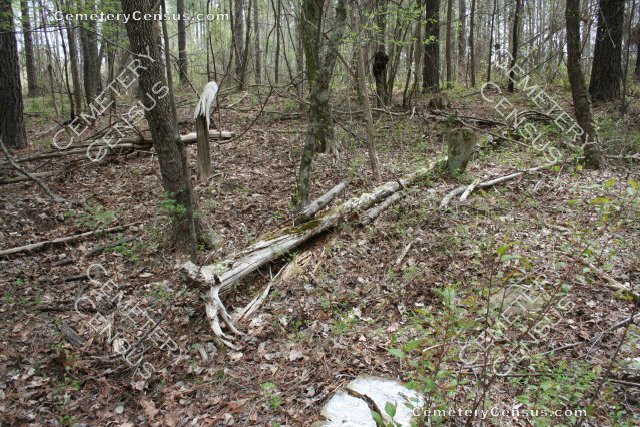 Location - Gulf Township. In a horseshoe bend of the Deep River. 0.85 miles south of Hwy 421; 0.44 miles east of the Deep River on a site said to be the former location of Belmont Plantation.

Coordinates: 35d 32m 32.8s N; 79d 17m 16.5s W Click here for Google maps

Owner: David L. Ward, D&O Properties.

Legal Description: Parcel 10190; Deed book 1659/278; Plat 2012-23.
Topo Quadrant: Goldston, Code Q.
Family owned: Yes.
Abandoned: Yes.
Number of graves: Approx. 5+.
Size: Approximately 15'x15'.
Type: Black.
Restricted access: Yes, Private property.
Condition: Overgrown, not easily identfiable.
Enclosed: No.
Markers: Yes.
Markers with inscriptions: Yes.
Number of readable markers: 1.
Last burial: 18??.
First burial: 18??.
Markers damaged: Yes. Neglect.
Hazards to cemetery: Neglect.
Listed: No.

Miscellaneous information: Site is said to be the location of the Belmont Plantation.

Last canvassed by: Julie King-McDaniel on 11 Apr 2013.


Harris, Zamar [?amar] (b. 1805 - d. 18__)
Wife of Squire Harris. Mother-in-law of Sampson Haughton. broken. Material marble. Condition poor.
Web page updated 13 May 2017
Index of All Cemeteries
Alphabetical Index of All Burials
Previous Page