Index of All Cemeteries
Alphabetical Index of All Burials
Previous Page
Use the following to search across all the cemeteries listed.
Example: "Smith, Roger" (yes, use the quotes)
581 UNKNOWN [K30.1]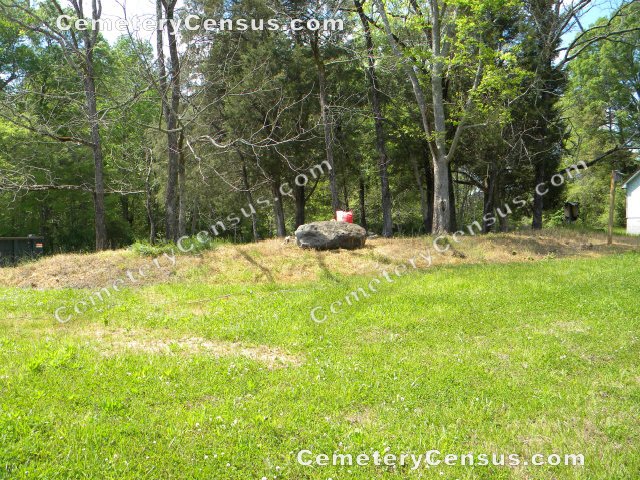 Location - Center Township. South of Alston Chapel Rd. Across from Old Cedar Rd. In front of house being built by Bill McClelland at 3261 Alston Chapel Rd.

Coordinates: 35d 42m 25.3s N; 79d 14m 48.9s W Click here for Google maps

Surveyed and photographed by Bev Wiggins on 11 Apr 2012.

View #2 of the cemetery. View #3 of the cemetery. View #4 of the cemetery. View #5 of the cemetery. View #6 of the cemetery.

Owner: Bill and Jacqueline McClelland.
Legal Description: Parcel 67101. Deed 533/699 from Gus Womble to William Thomas and Jacqueline McClelland. Plat A-680 references deed IJ/27 --from RL and Julia Goldston, et al (heirs of JD and Addie May Womble) to Gus May Womble of Lee Co. IJ/27 references plat 1-37.

Topo Quadrant: Pittsboro Code K.
Family owned: Yes.
Abandoned: Yes.
Number of graves: Unknown.
Size: Approximately 50'x80'.
Type: Other. Unknown.
Restricted access: Yes, Private property.
Condition: Not identifiable as a burial site, but known to exist through tradition.
Enclosed: No.
Markers: No.
Markers with inscriptions: No.
Number of readable markers: 0.
Last burial: Unknown.
First burial: Unknown.
Listed: No.

Miscellaneous information: Property owner, Bill McClelland reported the cemetery to CCHA in March 2012. He was told by David McLaurin that the raised area with trees located in the middle of a field was a cemetery. McLaurin indicated that this information came from his grandfather. The McLaurins are long-time residents of the area who have leased this property for farming.

Last canvassed by: Bill McClelland, Jim and Bev Wiggins on 11 Apr 2012.


Web page updated 21 October 2017
Index of All Cemeteries
Alphabetical Index of All Burials
Previous Page