Index of All Cemeteries
Alphabetical Index of All Burials
Previous Page
Use the following to search across all the cemeteries listed.
Example: "Smith, Roger" (yes, use the quotes)
579 UNKNOWN [H81.2]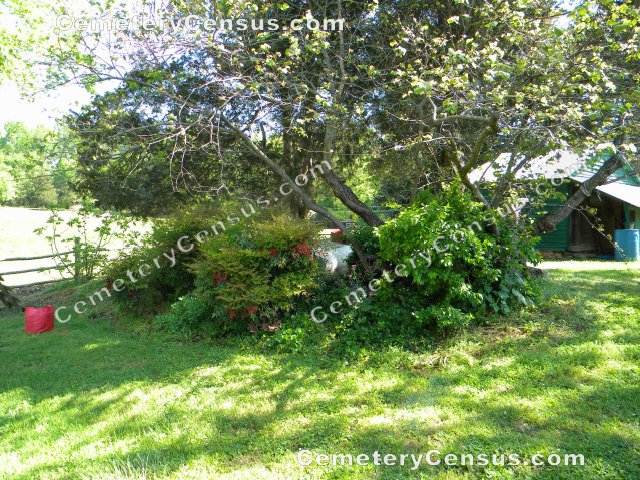 Location - Bear Creek. West side of SR 1006, Siler City--Glendon Road, 0.7 mile north of SR 1005, Bonlee--Bennett Road. Immediately adjacent to residence of Herbert and Jane Gaines at 4284 Siler City Glendon Rd.

Coordinates: 35d 38m 50.7s N; 79d 28m 34.0s W Click here for Google maps

Surveyed and photographed by Bev Wiggins in April 2012.

View #2 of the cemetery. View #3 of the cemetery. View #4 of the cemetery. View #5 of the cemetery. View #6 of the cemetery.

Owner: Herbert H. Sr. and Jane Gaines.

Legal Description: Parcel 4239. DB 372/25. Plat 94-390. DB 902/913, 28 Nov 2001 Herbert H. and Jane M. Gaines to Sharon Gaines and Paul Jason Buchanan. Plat 2001-362. 372/24, 20 Mar 1972 Jane Gaines to Herbert Gaines her 1/12 undivided interest in the property inherited from her mother Lydia Gilbert Markham. 365/165, 21 Feb 1972, DR and Rose Markham to Herbert H and Jane Gaines. References HH/329, Feb 1933, J. Richard Gilbert et al to Lydia Gilbert and DR Markham, 325 acres acquired by inheritance from Martha Eugenia Gilbert (wife of John R. Gilbert). CR/411 John R. and Mary Lane to M. Eugenia Gilbert, 28 Jan 1895. Described as land conveyed by John A. Womack, administrator of the late Samuel C. Forrester to John R. Lane on 29 May 1894, E/207 judgment docket (see CR/409) and described as the land where Samuel C. Forrester resided at the time of his death--225 acres.

Topo Quadrant: Siler City H.
Family owned: Yes.
Abandoned: Yes.
Number of graves: 4.
Type: Other. Unknown.
Restricted access: Yes, Private property.
Condition: Not identifiable as a burial site, but known to exist through tradition.
The small area is marked by two cedar trees and plantings of nandina, forsythia, periwinkle, and other garden plants. It contains some white quartz, one fieldstone marker that appears to have been placed deliberately, and several depressions. It is known as a cemetery through Jane Gaine's mother, Lydia Gilbert Markham, who lived on the property as a child. Jane indicated that her grandfather's residence was in the same location as her own and that there had been another house on the property closer to the road. The site probably predates the occupation of the property by the family of Samuel C. Forrester. That family's cemetery is about 500' due north of this one.

Enclosed: No.
Markers: Yes.
Markers with inscriptions: No.
Number of readable markers: 0.
Last burial: Unknown.
First burial: Unknown.
Hazards: The inconspicuous site could easily be overlooked and destroyed inadvertently.
Listed: No.

Miscellaneous information: Herbert and Jane Gaines reported the site in Oct 2011. The site was known to Jane Gaines' mother, Lydia Gilbert Markham, as a cemetery, but she had no knowledge of the family buried there. She had lived on the property as a child in the household of John Richard and Martha Eugenia Gilbert. Bev Wiggins to visit in 2012.

Last canvassed by: Bev Wiggins on 11 Nov 2011.


Web page updated 21 October 2017
Index of All Cemeteries
Alphabetical Index of All Burials
Previous Page