Index of All Cemeteries
Alphabetical Index of All Burials
Previous Page
Use the following to search across all the cemeteries listed.
Example: "Smith, Roger" (yes, use the quotes)
578 WILLIAMS. JOSEPH JOHN [R07.2}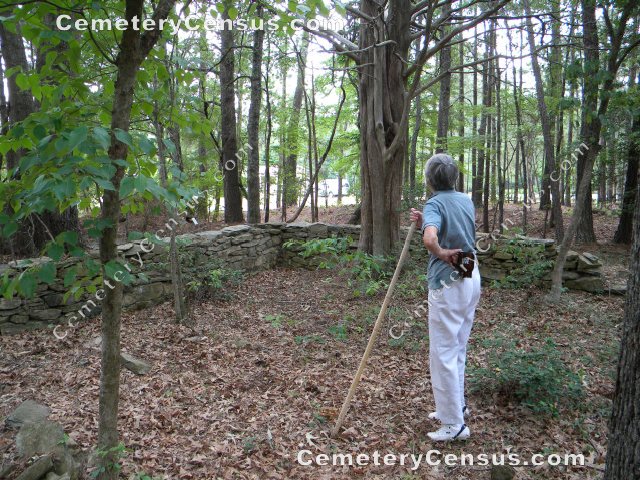 Location - Oakland Township. Near end of Gade Bryant Rd on east side. Adjoins north property boundary of 1817 Gade Bryant Rd.

Coordinates: 35d 37m 23.5s N; 79d 09m 37.1s W Click here for Google maps

Photos of the cemetery: View #1. - View #2. - View #3. - View #4. - View #5. - View #6. - View #7. - View #8. - View #9. - View #10. - View #11. - View #12.

Owner: Margaret B. Pollard.

Legal Description: Parcel 18595. Deed book 407/214, 1977 to Margaret Pollard from from RG and Maude Bryant. Deed states that N boundary is adjacent to old cemetery. Part of a larger parcel 18592, FW/39 1919 transfers ownership of 103 acres to R. G. Bryant from E.C and E.V. Lee his wife, J.L. and Bessie Lee, and Claud Stone. FH/306 4 Jan 1916 298.6 acres excepts 25 sq yards known as Williams grave yard; from EB and Annie B. Leonard to RG Bryant, EC and FJ Lee, and Claud Stone. CV2/92 7 Mar 1910 JP [James Paschal] and Samantha Bridges to EB Leonard. Same description and cemetery reference.Samantha Williams inherits this property from her father Joseph John Williams in 1887. Will E/362 refers to "property where I now live."

Topo Quadrant: Colon Code R.
Family owned: Yes.
Abandoned: Yes.
Number of graves: 12-15.
Cemetery size: 75' x 75'.
Type: White.
Restricted access: Yes, Private property.
Condition: Poorly maintained.
Enclosed: Yes. Enclosed by stacked fieldstone wall about 3' high.
Markers: Yes.
Markers with inscriptions: No.
Number of readable markers: 0.
Last burial: Unknown.
First burial: Unknown.
Damaged markers: Yes, Stones may have been removed from graves.There is a pile of stones within the walled cemetery.
Hazards: Neglect.
Listed: No.

Miscellaneous information: Samantha Bridges, referenced in deed and will above, is the daughter of Joseph John and Delilah Williams. In 1880, Samantha is 36, single and living with them in Oakland township. The 1900 census says JP Bridges and Samantha married in 1891. James Paschal Bridges was previously married to Samantha's younger sister Adalaid. We were told about the cemetery by Wilbur Bryant and shown to the site by Carl Bryant, who now lives on the property. Deeds clearly identify this as the Williams cemetery. Apparently, Joseph John Williams lived on this property when he died (between registering his will in 1885 and probate in 1887), and it is possible that he is buried here.

Last canvassed by: Jane Pyle and Bev Wiggins on 16 June 2011.


Web page updated 21 October 2017
Index of All Cemeteries
Alphabetical Index of All Burials
Previous Page