Index of All Cemeteries
Alphabetical Index of All Burials
Previous Page
Use the following to search across all the cemeteries listed.
Example: "Smith, Roger" (yes, use the quotes)
574 UNKNOWN [E21.1]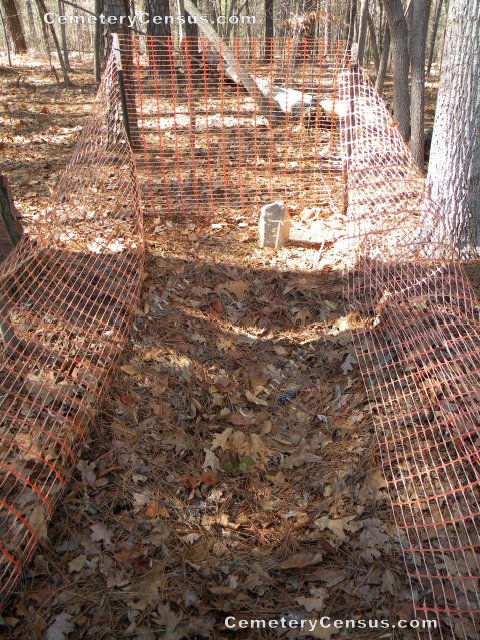 Location - Baldwin township, 360' west of Great Ridge Parkway; 360' south of Mann's Chapel Rd. Chatham County water tower lot.

Coordinates: 35d 50m 43.5s N; 79d 06m 27.1s W Click here for Google maps

Owner: Chatham County.
Legal Description: Parcel 88014, DB 1491/546; plat 2009-216. Plat shows gravesite location.
Topo Quadrant: Farrington Code E
Family owned: Yes.
Abandoned: Yes.
Number of graves: 1.
Cemetery size: 25' x 25'.
Type: Unknown.
Restricted access: No.
Condition: Overgrown, easily identifiable.
Enclosed: No.
Markers: Yes.
Markers with inscriptions: No.
Number of readable markers: None.
Damaged markers: No.
Hazards: Neglect.
Listed: Yes.

Miscellaneous information: Included in the Aug 2006 report entitled "An Intensive Cultural Resource Investigation: Briar Chapel, Chatham County, NC. ESI Report of Investigations No. 949, ER 06-023" Site number designation 31CH805.

Last canvassed by: Bev Wiggins on 13 Sep 2010. Site was visited 3 Mar 11 by Bev Wiggins, Jane Pyle, Lynn Richardson, and Lee Bowman.

The single, sunken grave is marked by a fieldstone. The grave lies a few feet outside of the fenced area around the county water tower on Mann's Chapel Rd. Currently marked with orange construction webbing.


Web page updated 21 October 2017
Index of All Cemeteries
Alphabetical Index of All Burials
Previous Page