Index of All Cemeteries
Alphabetical Index of All Burials
Previous Page
Use the following to search across all the cemeteries listed.
Example: "Smith, Roger" (yes, use the quotes)
573 UNKNOWN [D15.2]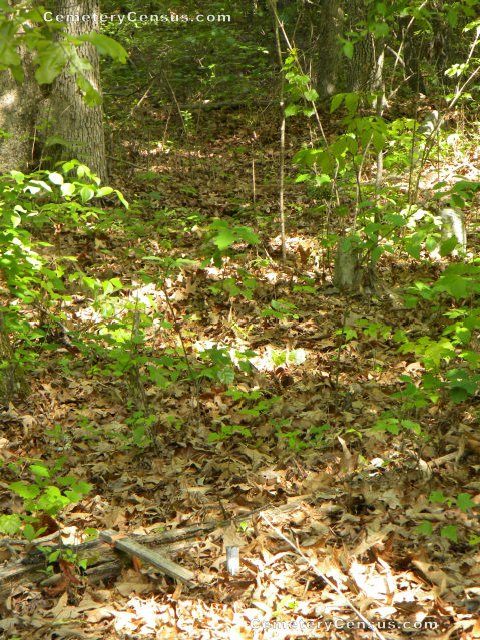 Location - Baldwin township, north of Finch's Way between 71 Cedar Grove Rd and 65 Finch's Way.

Coordinates: 35d 51m 22.3s N; 79d 10m 48.7s W Click here for Google maps

In Cedar Grove development. Small wooded lot between two residental lots.
View #2 of the cemetery.

Owner: MAC Development, LLC.
Legal Description: Parcel 81342. .193 ac Plat 2004-207. Deed 1098/430. In Cedar Grove development.
Topo Quadrant: Bynum D.
Elevation: 493 ft.
Family owned: Yes.
Abandoned: Yes.
Number of graves: 25.
Cemetery size: 80' x 95'.
Type: Unknown.
Restricted access: No.
Condition: Overgrown, not easily identifiable.
Enclosed: No.
Markers: Yes.
Markers with inscriptions: No.
Number of readable markers: None.
Damaged markers: No.
Hazards: Neglect.
Listed: No.

Miscellaneous information: This cemetery was surveyed off when Cedar Grove development was established. There were no records established for the site at that time. The cemetery was visited and photographed 1 May 2010.

Last canvassed by: J&B Wiggins, J Pyle. Date: 1 May 2010. Photographs by Beverly Wiggins.


Unknown, Unknown (b. Unknown - d. Unknown)
Web page updated 21 October 2017
Index of All Cemeteries
Alphabetical Index of All Burials
Previous Page