Index of All Cemeteries
Alphabetical Index of All Burials
Previous Page
Use the following to search across all the cemeteries listed.
Example: "Smith, Roger" (yes, use the quotes)
572 UNKNOWN [K25.5]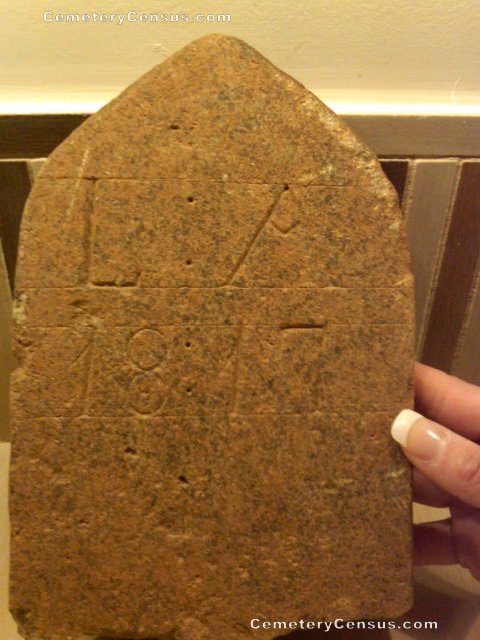 Location - Center township, behind 44 Johnston St, Pittsboro.

Coordinates: 35d 43m 16.2s N; 79d 10m 54.4s W Click here for Google maps

Owner: Raymond Kelley and Melissa Thomas.
Legal Description: parcel 8207, plat 92-247, deed 1394/994; 860/393; 2001 719/296; 1997 611/1178; 1945 JL/266; 1908 EK/24 Lot 6 of Pittsboro Heights.
Topo Quadrant: Center K.
Private owned: Yes, probably family.
Maintained and in use: No.
Number of graves: Unknown.
Restricted access: Yes. Private property
Condition: Not identifiable as a burial site. Inscribed stone found during patio construction in 2010.
Markers: Yes.
Markers with inscriptions: Yes.
Number of readable markers: 1.
Last burial: 1817.
First burial: c. 1817.
Markers damaged: Yes. marker was buried, source of disturbance unknown.
Cemetery listed: No.

Miscellaneous information: Marker shows typical style for time period (1817)-- underlining and Gothic dots. Stone was found about 6" below ground during construction of patio. Location of grave is unclear. Report was made by homeowner Ray Kelley (548-5933) in April 2010. He also supplied a photograph of the small, nicely-shaped stone, which has "1817 and the initials L. A." It is possible that there are other graves in this location.

Last canvassed by: Bev Wiggins. Date: 5 May 2010. Photograph by Ray Kelley.


A., L. (b. Unknown - d. 1817)
Marker has initials L.A. and date 1817. Marker is made of sandstone and in good condition. Stone found 6" under ground during patio construction.
Web page updated 21 October 2017
Index of All Cemeteries
Alphabetical Index of All Burials
Previous Page