Index of All Cemeteries
Alphabetical Index of All Burials
Previous Page
Use the following to search across all the cemeteries listed.
Example: "Smith, Roger" (yes, use the quotes)
569 WILLIAMS, BENJAMIN [E63.1]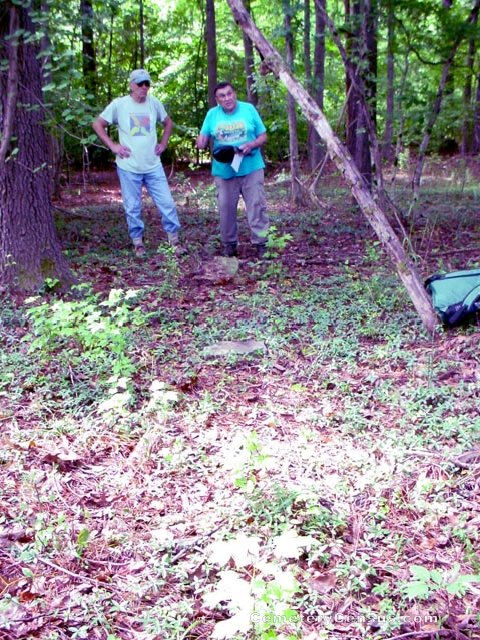 Location - Williams township; near a lane leading to 371 Lassiter Road.

Coordinates: 35d 47m 51.0s N; 79d 04m 43.0s W Click here for Google maps

Fieldstone #1. Fieldstone #2.

Owner: Don Comer
Legal Description: Parcel 18991 DB 372/656 Plat 14-78.
Topo Quadrant: Code: E.
Family owned: Yes.
Abandoned: Yes.
Number of graves: 25.
Cemetery size: 50' x 50'.
White: Yes.
Restricted access: Yes. Private property.
Overgrown and easy to identify: Yes.
Enclosed: No.
Markers: Yes.
Markers with inscriptions: Yes.
Number of readable markers: 1.
Last burial: Unknown.
First burial: Unknown.
Markers damaged: Yes.
Other damage explanation: During road construction in early 1970s some soil was piled on cemetery and may cover some markers.
Listed: No.

Miscellaneous information: Deed and census info suggest this land was owned by Benjamin Williams family from 1860 until at least 1940s. Chain of title: 365/166 (22 Feb 1972) Beatrice T. Lassiter to Elbert Hardee & Paul Hallman; KG/98 (29 Sept 1949) HE & Ruby Manring to Joe and Beatrice Lassiter; JS/380 (25 Apr 1947) MB Snipes to HE and Ruby Manring; JS/146 (27 Feb 1947) James F. Harris and wife Lessie S. to MB Snipes; JA/4 (8 Jun 1943) MB Snipes to James Harris and wife; IV/205 (19 Jun 1942) EC Carr and wife Lula B. to MB Snipes; GQ/239 (25 Apr 1936) SN Betts and wife Etta to EC and Lula Carr; Per will of BJ Williams - book of wills "G" pages 214-219; HU/71 (17 Oct 1936) Nettie Williams and husband Walter To EC & Lula Carr-ref GW 397(16 May 1916) from William Williams to Mrs CL Lindsay--Ref FI/48; DA/360(1 Dec 1897) BJ and Bettie Williams 2 Bush Creek tracts for loan of $100 from CL Lindsay; BP/429 (20 Jul 1885) Benj & CA Williams (Chana Ann) to Ben J Williams Jr; 48.5 acres; BO/536 (20 Jul 1885) Benj & CA Williams (Chana Ann) to Ben J Williams Jr 9 acres; BO/538 (1885) Benj J and wife Mary T. to James M Williams 7.75 ac; BO/558 (1885) Benj J & Mary T. to James Williams; AR/196 (2 Jan 1860) State of NC to Benjamin Williams 6.75 ac on Bush Creek. *More in notebook.

Last canvassed by: J&B Wiggins, Don Comer. Date: 10 Jun 2009.
Pictures provided by Beverly Wiggins in June 2009.


W., M. E. (b. Unknown - d. Unknown)
Web page updated 21 October 2017
Index of All Cemeteries
Alphabetical Index of All Burials
Previous Page