Index of All Cemeteries
Alphabetical Index of All Burials
Previous Page
Use the following to search across all the cemeteries listed.
Example: "Smith, Roger" (yes, use the quotes)
568 CLEGG - SCURLOCK [K26.3]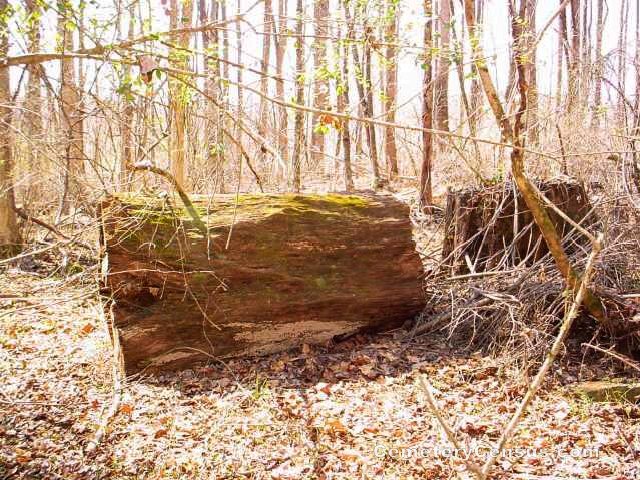 Location - Center Township. North of E. Cornwallis Street, south of Roberson Creek, east of railroad tracks

Coordinates: 35d 42m 50.0s N; 79d 10m 20.0s W Click here for Google maps

Owner: Gaither Rogers, Jr..
Legal Description: Parcel 6771; DB 391/153 18 Sep 1975 to Gaither Rogers, Jr. from Lillie & Gaither Rogers, 6.09 ac. Deed references small family cemetery. Deed 326/148 divides lands of Amy [Clegg] Scurlock, Aug 1967. EX/386 divides lands of Rufus J. Clegg, Sep 1911..
Topo Quadrant: Pittsboro Code: K.
Family owned: Yes.
Abandoned: Yes.
Number of graves: 30.
Cemetery size: 50' x 50'.
Black: Yes.
Restricted access: Yes. Private property
Overgrown and easy to identify: Yes.
Enclosed: No.
Markers: Yes.
Markers with inscriptions: Yes.
Number of readable markers: 5.
Last burial: 1943.
First burial: 1888.
Markers damaged: Yes.
Other damage explanation: Neglect.
Hazards: Neglect.

Miscellaneous information: Shown to cemetery location by Walter Rone, who walked through it to get to school as a child. Accompanied by Barbara Perry, who arranged the visit. Family members indicate that David Lee Harris also buried here; found death certificate for infant with that name, buried in Clegg cemetery. Also found death certificate for Moore infant buried in Scurlock cemetery.

Last canvassed by: J&B Wiggins, Walter Rone, B. Perry. Date: 6 Mar 2009.
Pictures provided by Beverly Wiggins in April 2009.


Clegg, Lucy (b. abt 1872 - d. 20 Jun 1900)
wife of R. J. Clegg (Rufus). Aged 28 years. At rest.. on ground.

Harris, David Lee (b. 5 Apr 1934 - d. 5 Apr 1934)
son of Katie May Harris. info from death certificate--indicates burial in Clegg cemetery.

Moore, infant (b. 4 Jan 1918 - d. 5 Jan 1918)
son of Isaac E. Moore and Maud Scurlock Moore. info from death certificate--indicates burial in Scurlock cemetery.

Rhone, Unknown (b. Unknown - d. 1888)

Scurlock, Amy (b. abt 1855 - d. 1943)
wife of Simon Scurlock -- not on stone. birth year estimate from 1900 and 1910 Census.

Scurlock, Maggie E. (b. 6 Jun 1894 - d. 29 Dec 1915)
daughter of Simon and Amy Scurlock. "Gone but not forgotten". off base. 2.5' obelisk.

Scurlock, Simon (b. abt 1836 - d. 1916)
husband of Amy Scurlock--not on stone. birth year estimate from death certificate which estimates age as 80 yrs.
Web page updated 13 May 2017
Index of All Cemeteries
Alphabetical Index of All Burials
Previous Page