Index of All Cemeteries
Alphabetical Index of All Burials
Previous Page
Use the following to search across all the cemeteries listed.
Example: "Smith, Roger" (yes, use the quotes)
565 SMITH - JONES - MYRICK [P36.1]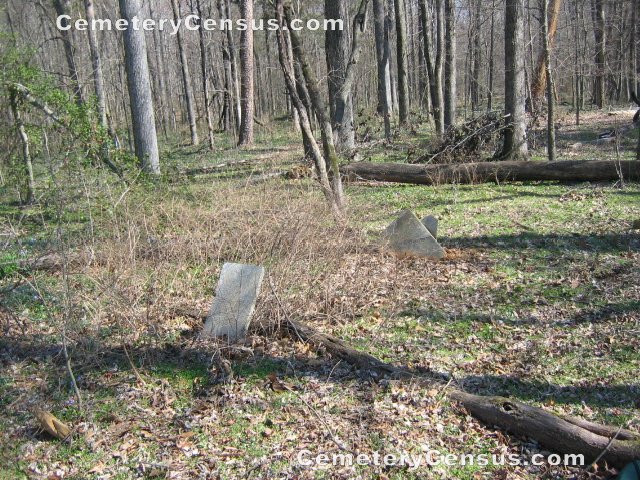 Location - Bear Creek Township. 17671 NC Hwy 902

Coordinates: 35d 35m 11.0s N; 79d 25m 11.0s W Click here for Google maps

Owner: Jennie Beavers Stewart.
Legal Description: Parcel 4429, DB 954/601; Plat 2007-274. Other deed references: JS/597, IG/37, IC/364, CH/558, BX/17..
Topo Quadrant: Bear Creek P.
Family owned: Yes.
Abandoned: Yes.
Number of graves: 56+.
Cemetery size: 100' x 150'.
White: Yes.
Restricted access: Yes. Private property
Overgrown and easy to identify: Yes.
Enclosed: No.
Markers: Yes.
Markers with inscriptions: Yes.
Number of readable markers: 5.
Last burial: 1922.
First burial: 1859?.
Unusual situation: Yes.
Unusual situation: Several soapstone headstones.
Markers damaged: Yes.
Other damage explanation: Weather.

Significant events: Land was owned by William Myrick family in late 1800s. It was possibly part of the Moses Myrick state land grant of late 1700s, as the Smith, Jones and Myrick families appear to have been neighbors and to have intermarried. Elizabeth Smith, wife of Ambrose Smith, buried here. Ambrose was recipient of Granville Grant in 1758. A.W. Jones buried here was likely a grandson of Susanna Smith, according to deed B-C/307..

Miscellaneous information: Periwinkle has spread a considerable distance to the south, but there is no evidence of additional graves..
Last canvassed by: Jane Pyle & Bev Wiggins. Date: 13 Mar 2008.


Jones, A. W. (b. 19 Mar 1858 - d. 1 Nov 1922)
I know whom I believed. wheat design, ivy design on bottom, lily at top of spire. Footstone: AWJ. Closeup of marker.

Smith, Elizabeth (b. 21 Mar 1797 - d. 29 Jun 1847)
consort of Ambrose Smith. wife of Ambrose Smith. This stone not found in 2008..

Smith, John (b. 11 Sep 1785 - d. 7 Aug ____)
In memory. Name on this stone illegible in 2008.

Smith, Mary or Sally T.? (b. 15 Feb 1811 - d. __ Sep 1864)
In Sacred Memory of. broken and deteriorating. This stone overwritten with (scrawled) Jefry W. 11 Nov 19??.

Smith, Nancy (b. 1805 - d. 1879)
wife of Lewis Smith. Sacred to the memory of. age ?? 19 mo ?? ds. Another view.

Smith, William? (b. 1805? - d. Jun 1859)
top broken. aged ?? yrs 19 ms. most of inscription illegible. Another view.

Smith, Winnie (b. Unknown - d. Unknown)
This stone not found in 2008..

Unknown, Jefry W. (b. Unknown - d. 11 Nov 19??)
This inscription is scrawled on the stone inscribed for Mary/Sally Smith. broken and deteriorating.
Web page updated 21 October 2017
Index of All Cemeteries
Alphabetical Index of All Burials
Previous Page