Index of All Cemeteries
Alphabetical Index of All Burials
Previous Page
Use the following to search across all the cemeteries listed.
Example: "Smith, Roger" (yes, use the quotes)
559 JOHNSON, DELILA [R24.1]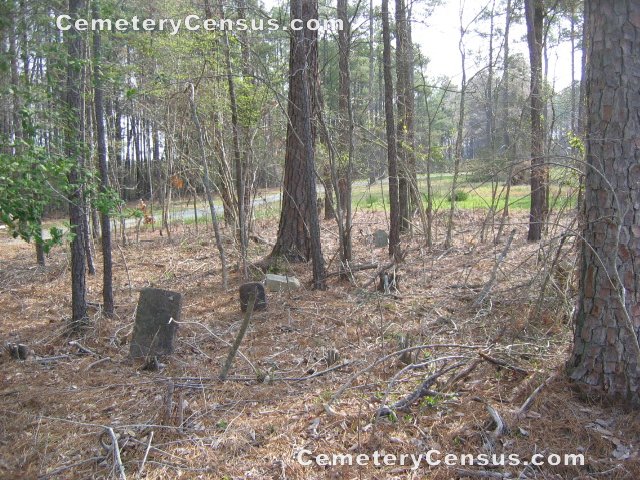 Location - Oakland Township. 9451 NC 87 S

Coordinates: 35d 35m 21.0s N; 79d 11m 18.0s W Click here for Google maps

Owner: Charles E. Woodell.
Legal Description: Parcel 18423.
Topo Quadrant: Colon.
Family owned: Yes.
Number of graves: 7.
Cemetery size: 30' x 35'.
White: Yes.
Restricted access: Yes. Private Road
Overgrown and easy to identify: Yes.
Enclosed: No.
Markers: Yes.
Markers with inscriptions: Yes.
Last burial: 1873.
First burial: 1873.

Miscellaneous information: Cemetery is next to private easement for W.L. London, who reports that nobody seems to know which family this person belongs to; a barbed wire fence had formerly enclosed the cemetery and posts are still evident, along with rusty barbed wire. Families currently in the area seem to want to preserve it and keep it at least roughly cleaned out.

Last canvassed by: Jane Pyle, W.L. London. Date: 22 Mar 2008.


Johnson, Delila D. (b. 4 May 1848 - d. 23 Jul 1873)
wife of J. J. Johnson. "In Memory of / Delila D. Johnson / wife of J. J. Johnson / who died (with faith / in Christ ) July 28 / 1873 age 25 years 2 M and 19 days". fair condition. only inscribed stone. Another view.
Web page updated 13 May 2017
Index of All Cemeteries
Alphabetical Index of All Burials
Previous Page