Index of All Cemeteries
Alphabetical Index of All Burials
Previous Page
Use the following to search across all the cemeteries listed.
Example: "Smith, Roger" (yes, use the quotes)
558 RICHARDSON - COTTON [K35.1]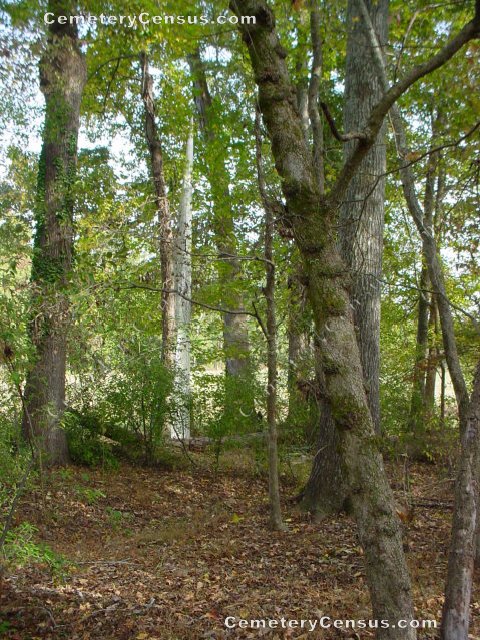 Location - Center Township. 91 Griffin Road in woods near back pasture.

Coordinates: 35d 42m 12.0s N; 79d 11m 06.0s W Click here for Google maps

Owner: Burnice and Mary Griffin.
Legal Description: Parcel 7001, DB KQ/487, 1951. Traced back to 16 Apr 1888 CH/30 to Alex McIver from Rod Cotton, wife M.T. and C.B. Cotten -- references Wright Cotten place.
Topo Quadrant: Pittsboro.
Abandoned: Yes.
Number of graves: 50+.
Cemetery size: 120' x 75'.
Black: Yes.
Restricted access: Yes. Private property
Poorly maintained: Yes.
Overgrown and not easy to identify: Yes.
Enclosed: No.
Markers: Yes.
Markers with inscriptions: Yes.
Number of readable markers: 3.
Last burial: 188?.
First burial: 187?.
Unusual situation: Yes.
Unusual situation: One stone unprofessionally carved.
Markers damaged: Yes.
Damage from farm animals: Yes.
Damage from vandalism: Yes.
Other damage explanation: Neglect, Weather, Tree Fall.
Hazards: Falling trees, farm animals.

Miscellaneous information: Doris Betts obtained permission from the landowner and guided CCHA members to the site. There are at least 50 graves indicated by fieldstone markers or sunken areas, and room for many more in the area. Three inscribed stones belong to black people in 1870s and 1880s. An additional base has with no stone. May have been a slave cemetery, possibly associated with Cotton plantation, or a church cemetery.

Last canvassed by: B&J Wiggins, J Pyle, Doris Betts. Date: 8 Nov 2007.


Cotton, C? (b. 25 Dec 1869 - d. 5 Mar 1871)
Child of Burton and Catherine Cotton. Aged 1yr 2mo 10days. "Her death like her life was peaceful and happy. Of such is the kingdom of heaven.". poor condition. unprofessionally carved stone.

Richardson, Henry (b. 10 Jan 1816 - d. 7 Jan 18__)
Husband of Mary Richardson. "Our father The faithful are sure of their reward". poor condition. Wheat design on stone. Bottom of stone.

Richardson, Mary (b. unknown - d. unknown)
Wife of Henry Richardson. poor condition. Wheat design on stone. (no dates)
Web page updated 21 October 2017
Index of All Cemeteries
Alphabetical Index of All Burials
Previous Page