Index of All Cemeteries
Alphabetical Index of All Burials
Previous Page
Use the following to search across all the cemeteries listed.
Example: "Smith, Roger" (yes, use the quotes)
466 WILLCOX [Q56.1]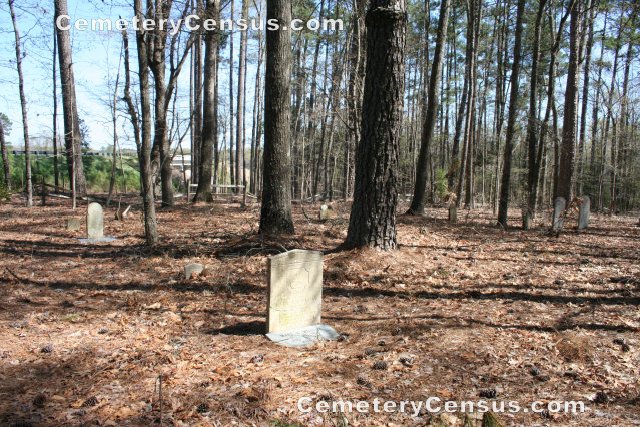 Location - Gulf Township. 0.5 mile northwest of the Town of Gulf, on the south side of SR 2140, Alton King Road, south of US 421, opposite Bethany Baptist Church

Coordinates: 35d 33m 32.0s N; 79d 17m 36.0s W Click here for Google maps

In 1982, Wade Hadley recorded 4 grave markers, and noted about 10 markers without inscriptions. In 1989, Reba Cheek recorded 6 grave markers. Julie King-McDaniel photographed the cemetery in April 2010.

View #2 of the cemetery. View #3 of the cemetery.

Topo Quadrant: Goldston.
Legal description: Parcel 80497. .7 ac. DB 328/460 (2005)
Family owned: Yes.
Abandoned: Yes.
Number of graves: 14.
White: Yes.
Unrestricted access: Yes.
Enclosed: Yes.
Markers: Yes.
Markers with inscriptions: Yes.
Number of readable markers: 6.
Last burial: 1829.
First burial: 1793.

Other info of interest: Also known as "Old Montgomery Grave Yard," according to deed 328/460.

Last canvassed by: Wade Hadley, 1982; Reba Cheek, 1989; Julie King-McDaniel, 2010.


Farris, Mary (b. 1756 - d. 6 Feb 1815)
Old stone: "This to the memory Mrs. Mary Farris who departed this life Feb'y the 6th 1815. Aged 58." New stone: Mary Alston Palmer Farris Born 1756 Died 1815. Wife of Col. William Palmer of Bath, N.C. Mother of Robert Palmer of Bath and Gulf, NC - William Palmer, B1746 D1786, Buried in NY City in Old Trinity Church Yard." Closeup of old stone.
Husband of Mary Wilcox Montgomery. Sacred to the Memory of John Montgomery who died February 14th 1818 in 86th year of his age.
Wife of John Montgomery. Sacred to the Memory of Mary Montgomery who died May 22nd 1824 in the 88th year of her age.
[Husband of Rebecca Butler Willcox.] "Revolutionary War Patriot John Willcox 1728 1793. Placed by the Army and Navy Chapter DAR. Old stone is illegible. [Home of John Willcox may have been located nearby.]
Wife of George Willcox. Old stone: "Sacred to the Memory of Mary A. Willcox. It is sown a mortal body. It is raised a spiritual body. Wife of George Willcox of Moore County, N.C. Born 28th October 1790. Died 20th July 1829. Aged 38 years 9 months and 2 days." Old stone has lovely and unusual moth and leaf design. [Mary Ann may have been Mary Ann Tysor, according to Wade Hadley, or Mary Ann Tyson, according to Margaret Palmer, before she married George Willcox.] Closeup of old stone.
New stone only: "Rebecca Butler Willcox; Wife of John Willcox; Died September 2, 1808; Age 62."
Web page updated 21 October 2017
Index of All Cemeteries
Alphabetical Index of All Burials
Previous Page