Index of All Cemeteries
Alphabetical Index of All Burials
Previous Page
Use the following to search across all the cemeteries listed.
Example: "Smith, Roger" (yes, use the quotes)
436 DOWD [P79.1]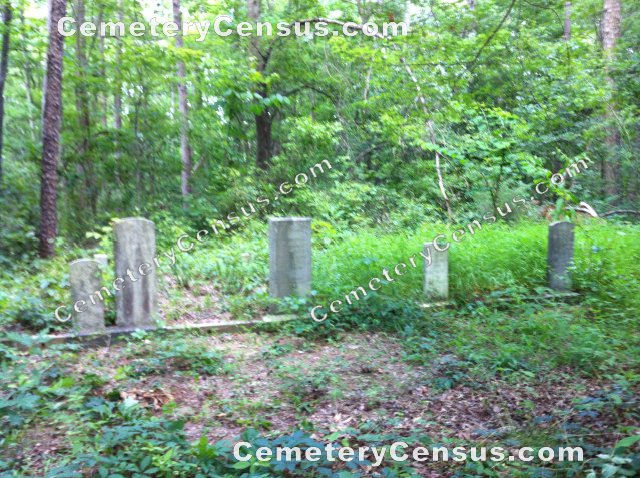 Location - Gulf Township. On the south side of NC 42, about 1 mile east of Haw Branch Rd. Behind residence at 2236 Lakewood Falls Rd., Goldston, 27252.

Coordinates: 35d 31m 39.8s N; 79d 23m 16.9s W Click here for Google maps

In 1989 Wayne Phillips reported eight readable gravestones in an abandoned family cemetery, but the original marker cards have been lost. In 2002, William Moore reported via e-mail seven inscribed markers and provided photographs. Tim Dowd photographed the cemetery and one marker in 2012.

Topo Quadrant: Bear Creek.
Owner: Robert Alasevich.
Legal: Cemetery is shown on plat 2010-29, 18 Feb 2010. That plat also shows a trail to the cemetery on the property of Ethan and Katherine Young, 2310 Lakewood Falls Rd. (although the cemetery is on adjacent property). The cemetery is on parcel 63892, owned by Robert Alasevich. DB 1345/260, from Jack S. and Jean P. Webster, 29 June 2007; plat 27-34 (this plat does not show the cemetery). The Websters obtained the property from Paul Clark, executor for Ruth McDonald, in Dec 1998; deed book 774/975. Other deeds referenced: 507/723; 422/659; 415/95; 399/686; 393/500; IU/523; HU/312. HU/312 references the parcel on which John A. Dowd resided at the time of his death.

Family owned: Yes.
Abandoned: Yes.
Number of graves: 8.
Cemetery size: 20' x 20'.
White: Yes.
Unrestricted access: No, private property.
Maintained: Dowd family provides maintenance of the site.
Enclosed: No.
Markers: Yes.
Markers with inscriptions: Yes.
Number of readable markers: 8.
Markers damaged: Yes.
Miscellaneous information: Original grave marker cards by Wayne Phillips have been misplaced. Cemetery needs to be resurveyed..
Last canvassed by: Wayne Phillips. Date: 1989.


Dowd, Annie Mae (b. 25 Aug 1910 - d. 26 Aug 1910)
Daughter of William C. and Oppie Francis (Smith) Dowd. William C. is son of John A.; Oppie Francis is daughter of Ambrose Smith.
Daughter of John Allen and Louise J. (Nall) Dowd. "There is rest in Heaven".
Son of John Allen and Otelia A. (Barber) Dowd.
Husband of Otelia A. (Barber) and Louisa J. (Nall) Dowd. "Here I Lay My Burden Down, Change the Cross Into the Crown". Name on stone is J. A. Dowd. Another view.
Son of John Allen and Louisa J. (Nall) Dowd.
Second wife of John Allen Dowd. "Age About 60 yrs".
First wife of John Allen Dowd. "Devoted Wife and Mother".
Web page updated 13 May 2017
Index of All Cemeteries
Alphabetical Index of All Burials
Previous Page