Index of All Cemeteries
Alphabetical Index of All Burials
Previous Page
Use the following to search across all the cemeteries listed.
Example: "Smith, Roger" (yes, use the quotes)
409 PHILLIPS - TALLY [P24.1]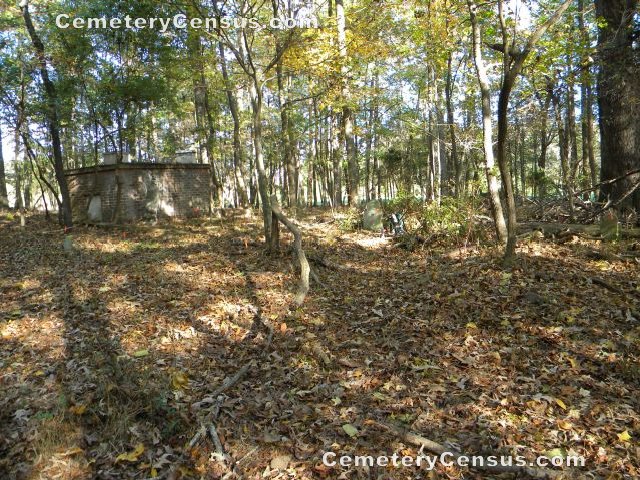 Location - Bear Creek. 0.28 mile west of Edwards Hill Church Road (almost due west of 3774 Edwards Hill Church Road) and 0.87 mile north of NC Hwy 902.

Coordinates: 35d 35m 35.0s N; 79d 26m 23.0s W Click here for Google maps

Photographs provided by Beverly Wiggins in November 2009.
View #2 of the cemetery.

Owner: Joel Tally.
Legal Description: Parcel 4513 467/388 1984 to Joel Tally from Joe and Inez Moon; 254/3 1958 Tally et al. to Moon; KG/257 1949; DK/139-141 1900 (plat on 141) Tally et al. to James Tally; plat 2-24.
Topo Quadrant: Bear Creek P.
Family owned: Yes.
Abandoned: Yes.
Number of graves: 39+.
Cemetery size: 175' x 60'.
White: Yes.
Restricted access: Yes. Private Property
Overgrown and not easy to identify: Yes.
Enclosed: No.
Markers: Yes.
Markers with inscriptions: Yes.
Number of readable markers: 10.
Last burial: 1917.
First burial: 1811.
Unusual situation: Yes.
Unusual situation: Lovely old soapstone markers; large brick tomb..
Markers damaged: Yes.
Other damage explanation: Treefall, neglect.
Hazards: Very large dead tree in center of cemetery had already damaged some stones and could destroy many as limbs and trunk fall..
Listed: Yes.
Listed explanation: Gravesites of Chatham County.

Miscellaneous information: Cemetery was inventoried in 1989 by Wayne Phillips but cards were lost. Jim and Beverly Wiggins were shown to the site by Joe Donald Smith on 5 Nov 2009 and all readable stones were recorded and photographed..
Last canvassed by: J&B Wiggins, Joe Donald Smith. Date: 5 Nov 2009.


Brewer, H or M B (b. Unknown - d. 1855)
flatish fieldstone finely carved, inscription fading.
Nicely crafted sandstone marker with much faded inscription.
Gone but not forgotten Father. on ground. 1880 census for Bear Creek (hh195 p 26) Isaac 23 wife Mary 23 dau Endora 4 son James E 1. Closeup of inscription.
[son of Edward and Dorcus Phillips from 1850 census]. in memory of Age 25 years 6 months and 8 days. good but broken off at ground and lying flat. Lovely rectangular soapstone tablet with vine design. Birthdate calculated from death date and age. 1850 census Madison age 5 in household of Edward and Dorcus Phillips Upper Regiment NC; 1870 census Madison age 21 in household of Robert Brewer. Closeup of inscription.
in memory of. 17 years 5 mo 20 days.
wife of S.P. Tally. Age 81 yrs 11 ms 23 ds Mother sleeps in the arms of Jesus. Large brick tomb with marble plaque. Joe Smith's mother attended the funeral as a child. Said Sheba was so bent with arthritis she couldn't be straightened out. Others said she did not want to be buried in the ground. Closeup of inscription.
[husband of Sheba Ann Tillman Tally per her stone]. Age 84 years 26 days Pas gone but not forgotten. cross and crown design. found in census records for 1860,1870,1880 and 1900. 1990 census gives marriage year as 1857. Closeup of inscription.
wife of Wm Tally. Aged 60 years Sacred to the memory of. Flower design in center of rounded top matches Wm Tally's stone.
[husband of Susannah Tally--per her stone]. Sacred to Memory Aged 85 11 days. stone hard to read flower design matches Susannah Tally's stone. 1860 census Chatham Western Division age 75 in hh of Stephen Tally 42 his wife Sheba 24 Susan 1 Eliza 39.
Web page updated 21 October 2017
Index of All Cemeteries
Alphabetical Index of All Burials
Previous Page