Index of All Cemeteries
Alphabetical Index of All Burials
Previous Page
Use the following to search across all the cemeteries listed.
Example: "Smith, Roger" (yes, use the quotes)
338 GUNTER, WILLIAM [L41.1]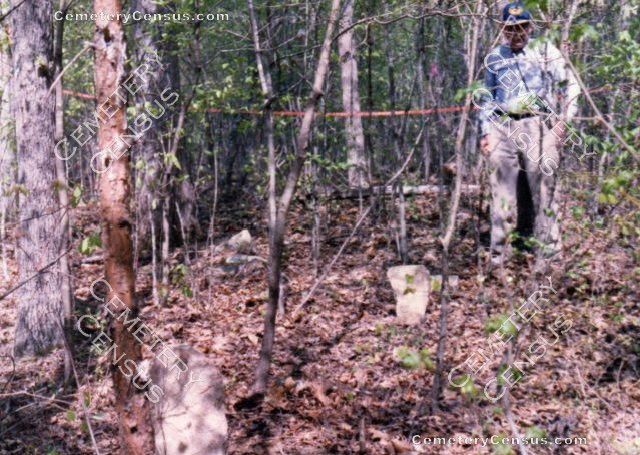 Location - Center Township. 0.5 mile west of SR 1943, Hanks Chapel Road, 0.5 mile south of Roberson Creek

Coordinates: 35d 41m 37.3s N; 79d 06m 31.7s W Click here for Google maps

On 3 April 1995, Will Heiser and Sam White recorded 3 grave markers and noted about 45 field stones. On 29 Jan 2015, Jim and Bev visited the site with Bill Oestereich of Preston Development. Bev Wiggins took photos of the site and three inscribed Gunter markers.

View #2 of cemetery. View #3 of cemetery. View #4 of cemetery. View #5 of cemetery. View #6 of cemetery. View of old homeplace.

Owner: Chatham Park Investors, LLC from Sam and Terry White.
Legal Description: Parcel 73517. Deed 1300/96, 15 Nov 2006. From Sam and Terry White to Chatham Park Investors, LLC. References 297/46, 427/652, 440/167. Deed 440/167, Sam M. White and Julia Elizabeth White to Samuel Wade White, 30 Oct 1962. Plat 97-221 shows cemetery.

Topo Quadrant: Merry Oaks.
Family owned: Yes.
Abandoned: Yes.
Number of graves: 48.
Cemetery size: 70' x 80'.
White: Yes.
Restricted access: Yes. Long lane on private property
Overgrown and easy to identify: Yes.
Enclosed: No.
Markers: Yes.
Markers with inscriptions: Yes.
Number of readable markers: 3.
Last burial: 1882.
Last canvassed by: Will M. Heiser w/ Sam White. Date: 3 Apr 1995; Jim and Bev Wiggins and Bill Oestereich, 29 Jan 2015.


Gunter, John S. (b. 1844 - d. Unknown)
Co. D, 35 NC Inf. CSA. Vertical Confederate slab. Birth date from Roster of Confederate Veterans from Chatham County, North Carolina, Col. John Randolph Lane Society, which also indicates that John S. Gunter was wounded and captured.

Gunter, Mary C. [Mary Candace Polly Bland] (b. Sep 1823 - d. Oct 1882)

Gunter, William (b. Nov 1819 - d. Mar 1882)
Web page updated 13 May 2017
Index of All Cemeteries
Alphabetical Index of All Burials
Previous Page