Index of All Cemeteries
Alphabetical Index of All Burials
Previous Page
Use the following to search across all the cemeteries listed.
Example: "Smith, Roger" (yes, use the quotes)
330 WHITE - BLAND [L31.1]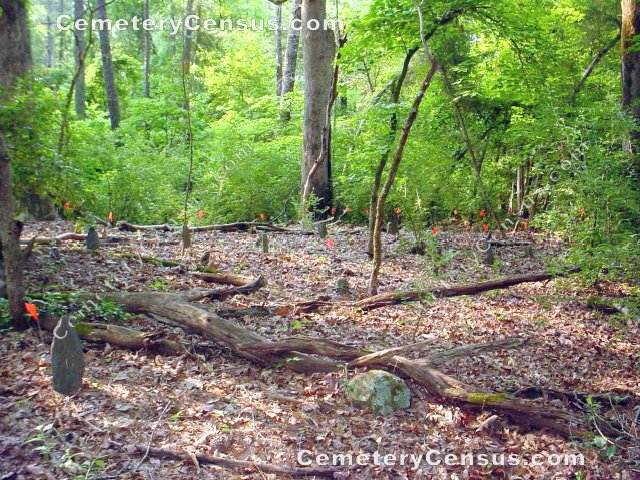 Location - Center Township. 1,000 feet south of SR 1943, Hanks Chapel Road, 0.85 mile east of SR 1944, Dee Farrell Road

Coordinates: 35d 42m 20.0s N; 79d 06m 31.0s W Click here for Google maps

View #2 of the cemetery.

Owner: Henry Taylor White.
Legal Description: Parcel 7553 DB 567/84 1990 from DB White; 1910 EX/215 references John Bland home place; 1901 DT/11 from division of lands of John Bland; 1891 CM/28 division of lands of John Bland.
Topo Quadrant: New Hope Dam.
Family owned: Yes.
Abandoned: Yes.
Number of graves: 37.
Cemetery size: 50' x 100'.
White: Yes.
Restricted access: Yes. Private property
Overgrown and not easy to identify: Yes.
Enclosed: No.
Markers: Yes.
Number of readable markers: 0.
Listed: Yes.
Listed explanation: Listed as White Cemetery in Gravesites of Chatham County.

Miscellaneous information: Jim and Bev Wiggins were shown to site by Randall Goodman 542-5766 in June 2008. Jack Poe showed Goodmnan the site in 1979-80. He remembers 2 inscribed stones there then; said stones not found when he went back in 1995. Large oaks nearby, also pines that White plans to thin. Oaks have grown up since burials, suggesting at least some burials predate White's ownership. Title trail indicates land is where John Bland lived and died.
Last canvassed by: Jim and Bev Wiggins; Randall Goodman. Date: 13 June 2008.


Web page updated 21 October 2017
Index of All Cemeteries
Alphabetical Index of All Burials
Previous Page