Index of All Cemeteries
Alphabetical Index of All Burials
Previous Page
Use the following to search across all the cemeteries listed.
Example: "Smith, Roger" (yes, use the quotes)
326 ELLIS, LEMUEL [L25.2]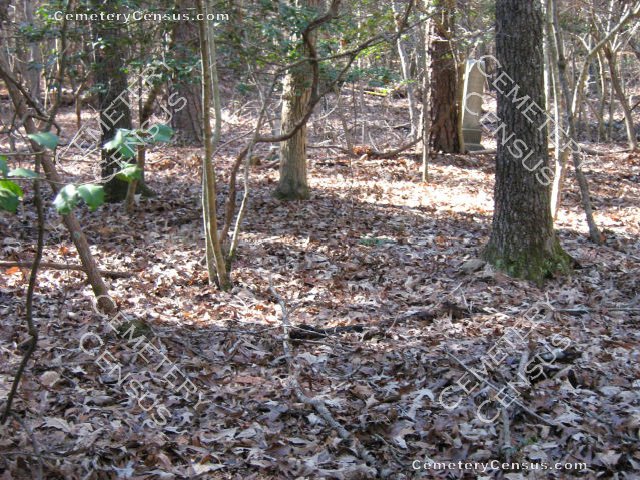 Location - New Hope Township. 1,000 feet east of SR 1700, North Pea Ridge Road, off lane 0.7 mile south of SR 1941, Seaforth Road

Coordinates: 35d 42m 50.0s N; 79d 03m 39.0s W Click here for Google maps

On 25 March 1992, Will M. Heiser, with descendants of the Lemuel Ellis family, recorded 3 grave markers, and noted 15 graves marked by field stone. Charles Thomas found the site and photographed the inscribed markers on 8 Feb 2011.

Owner: OWASA, Deed Book 545-210.
Legal Description: Prior owners: Lemuel Ellis, Nellie Ellis (CW-67); J. Lonnis Copeland farm, J. Q. A. Eubanks (JV-317); Robert H. and Loven R. Bruhn (384-982).
Topo Quadrant: Merry Oaks.
Family owned: Yes.
Abandoned: Yes.
Number of graves: 18.
Cemetery size: 40' x 40'.
White: Yes.
Restricted access: Yes. Hard to get to
Overgrown and easy to identify: Yes.
Enclosed: No.
Enclosed explanation: Originally had wrought iron fence on stone wall.
Markers: Yes.
Markers with inscriptions: Yes.
Number of readable markers: 3.
Last burial: 1901.
First burial: 1889.
Markers damaged: Yes.
Other damage explanation: Neglect.
Hazards: OWASA has promised right of access to Mrs. Zilpha Ellis Cooley, 919 542-2043.
Miscellaneous information: Mrs. Cooley is granddaughter of Lemuel Ellis, the original family owner. NC Coordinates: N714,800 E1,982,060.

Last canvassed by: Will M. Heiser w/ Zilpha Ellis Cooley and other relatives. Date: 25 Mar 1992; Charles Thomas, 8 Feb 2011.


Ellis, Lemuel (b. 1824 - d. 10 Feb 1889)
Row-1. No-2. Husband of Tilitha (Hatley) Ellis. Pedestal 1' sq. 4' high on 18" sq. base "ELLIS" on base. Footstone "L.E.". Material Marble. Condition leaning. Closeup.
Row-1. No-3. Son of Joseph Andrew & Mannie Frances (Copeland) Ellis. "Gone to be an angel". Vertical slab. Material Marble. Condition Good. Closeup.
Row-1. No-1. Wife of Lemuel Ellis. "His Wife". Shares pedestal with Lemuel Ellis. On opposite side of column for Lemuel Ellis. Material Marble. Condition leaning. Closeup.
Web page updated 13 May 2017
Index of All Cemeteries
Alphabetical Index of All Burials
Previous Page