Index of All Cemeteries
Alphabetical Index of All Burials
Previous Page
Use the following to search across all the cemeteries listed.
Example: "Smith, Roger" (yes, use the quotes)
297 BRANTLEY - ROWE [K61.1]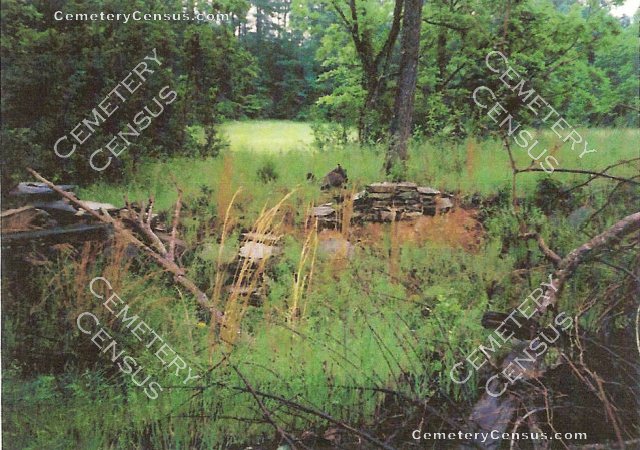 Location - Center Township. 0.25 mile east of SR 1010, Pittsboro--Goldston Road, 0.7 mile north of Rocky River. Entrance to the property is between 1145 and 1295 Pittsboro-Goldston Road.

Coordinates: 35d 40m 03.0s N; 79d 13m 36.2s W Click here for Google maps

In 1991 Edwin and Lemuel Burns reported three unmarked graves on McIver property, reportedly the site of Brantley family plot. In 2004, E. M. Konczak sent photographs and sketch maps of Brantley/Rowe cemetery with two inscribed stones and other illegible stones. Cemetery visited by Van Finch on 4 August 2013.

View #2 of the cemetery. View #3 of the cemetery. Original notes from 2002 visit.

Owner: Steven D. Webster.
Legal Description: Parcel 80169. Deed 1128/1099 from Gladys Webster to Steven D. Webster; Plat 2004-231. Deed JE-361, 29 Sep 1944; Plat A-185.
Topo Quadrant: Pittsboro.
Family owned: Yes.
Abandoned: Yes.
Restricted access: Yes. Private property.
Enclosed: Yes. Stacked fieldstone wall.
Markers present: Yes.
Markers inscribed: Yes.
Number readable markers: 2.
Markers damaged: Yes.
Listed: Yes. Gravesites of Chatham County.
Historical significance: Two Revoluntionary War veterans believed buried here.

Miscellaneous information: Not yet visited by CCHA.
Last canvassed by: Edwin and Lemuel Burns, 1991; E. M. Konczak, 2001.


Dismukes, Mary E. (b. Unknown - d. Unknown)

Rowe, John (b. Unknown - d. Unknown)

Unknown, Unknown (b. Unknown - d. Unknown)
Web page updated 13 May 2017
Index of All Cemeteries
Alphabetical Index of All Burials
Previous Page