Index of All Cemeteries
Alphabetical Index of All Burials
Previous Page
Use the following to search across all the cemeteries listed.
Example: "Smith, Roger" (yes, use the quotes)
289 PETTY, STEPHEN [K29.1]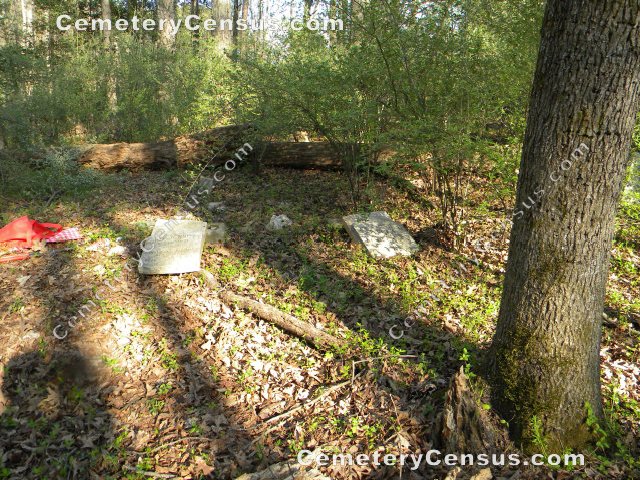 Location - Center Township. 0.25 mile south of Hanks Chapel Rd.; 0.18 mile west of gravel lane to 1289 Hanks Chapel Rd. South of Robeson Creek.

Coordinates: 35d 42m 52.0s N; 79d 07m 43.7s W Click here for Google maps

On 17 March 1995, Will M. Heiser recorded 4 inscribed grave markers, 2 bases without headstones (one with footstone), and 26 unmarked field stones. Jim and Bev Wiggins visited the site in 2009 with owner Teresa Phillips. On 7 Apr 2011, Adam Phillips helped Bev Wiggins return the gravestones of Wm. Stephen Petty and his wife Mary Jennett Strowd Petty to the graveyard. photo of Adam with stones. These stones had been removed in the 1970s by members of the Petty family concerned about damage caused by livestock in the cemetery. The markers were brought back to Chatham County by Earl Petty in 2009 and stored until they were restored to their proper locations in the cemetery in 2011. Their locations were indicated by two bases without headstones that had been noted in Will Heiser's 1995 inventory. One of those graves has a footstone with the initials "MJP," indicating which of the two graves was Mary Jennett's and which was William Stephen's.

View #2 of the cemetery. View #3 of the cemetery.

Owner: Cemetery is family owned. Allen R. and Teresa E. Phillips own surrounding property.
Legal Description: Cemetery is parcel 75994. Surrounding property is 7498. Deed 1127/ 1076; plat 2004-284. Deed Book 613-758, 8 April 1993, from Henry W. White, except for graveyard. Plat 98-446; IQ/539 18 Jul 1940, Henry M. White to HJ and Mary White; FY/26 Willie D. Teague to EH Petty, (mentions church, school, and lodge lots), 1922. All deeds except the graveyard with the following language: ". save and except the old grave yard as now in actual usage that is to say occupied by graves and a strip of land as wide as same and extending therefrom to Raleigh and Pittsboro old road."

Topo Quadrant: Pittsboro.
Family owned: Yes.
Abandoned: Yes.
Number of graves: 32.
Cemetery size: 60' x 105'.
White: Yes.
Restricted access: Yes. Private property
Overgrown and easy to identify: Yes.
Enclosed: No.
Markers: Yes.
Markers with inscriptions: Yes.
Number of readable markers: 6.
Last burial: 1901.
First burial: 1820.
Markers damaged: Yes. Damaged by treefall and livestock.
Other damage explanation: Ladies from Chapel Hill removed inscribed stones. The stones were returned in 2011.
Last canvassed by: Will M. Heiser and Henry White. Date: 17 Mar 1995; Jim and Bev Wiggins and Teresa Phillips, 2009; Bev Wiggins and Adam Phillips, Apr 2011.


Hartso, Kitty (b. 5 Jan 17?? - d. Unknown)
Flat field stone, letters scratched on stone. Another view. Row 1. column 6.

Petty, Lutilda (b. 17 Nov 1805 - d. 29 Sep 1876)
2nd Wife of Stephen Petty. "In memory of our Mother". "She has gone to live with Jesus". Another view. Row 1. column 2.

Petty, Mary Jennett Strowd (b. 2 Nov 1843 - d. 15 Jun 1900)
Wife of William Stephen Petty. Married 14 Mar 1866. "The beloved mother of her children." Footstone: MJP. Headstone was removed in the 1970s and returned in 2011. Grave is outlined with white quartz. Closeup of marker. Row 1. column 5.

Petty, Sarah (b. 9 Mar 1769 - d. 22 Jan 1820)
1st Wife of Stephen Petty. Weathered. Not located in 2011. There is a fallen tree in the location. Row 1. column 1.

Petty, Stephen (b. 1774 - d. 8 Apr 1850)
"Aged 76 years." Husband of Sarah Petty and Lutilda Petty. Closeup of marker. Row 1. column 2.

Petty, William Stephen (b. 14 Apr 1834 - d. 7 Nov 1901)
"Faithful in all duties. A consistent member of the Christian Church." Husband of Mary Jennett Strowd Petty. Headstone removed in 1970s by family to prevent damage and was returned in 2011. Top part of marker. Bottom part of marker. Row 1. column 4.
Web page updated 21 October 2017
Index of All Cemeteries
Alphabetical Index of All Burials
Previous Page